6 bucket list travel ideas for over 50s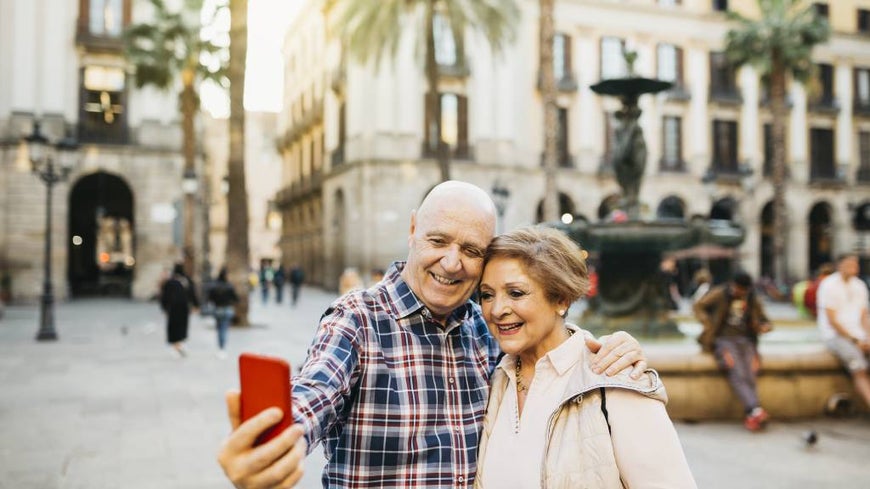 Ute Junker interviews travel expert Michelle Mickan for Seniors Travel Insurance.
Are you still dreaming of heading out on an African safari? Marvelling at huge herds of wildebeest migrating across the plains, watching a pride of lions slinking lithely through the bush, enjoying sundowners by a waterhole as hippos let loose their mighty bellows?
Or perhaps you have always wanted to stand in awe before the artefacts of vanished civilisations: the ancient temples at Angkor, the stone citadels of the Maya or the magnificent Machu Picchu, perched in lonely splendour on a jungle-shrouded peak.
Whatever is on your travel bucket list, the time to start planning is now. The travel industry is seeing a surge in bookings from over 50s who are done with waiting for 'some day' to come. "We're hearing a lot of guests say I'm not missing out – I'm booking this now," says Michelle Mickan, head of marketing at luxury travel company Abercrombie & Kent.
While many travellers are booking the destination of their dreams, others are choosing to revisit old favourites through a new lens. "We had one guest who last went to Morocco in the 1970s as a 20-something hippy who had always wanted to return," says Evan Petrelis, managing director of Renaissance Tours which offers special-interest tours covering everything from art and architecture to ballet, opera and food. "Going back 40 years later, looking at it through different eyes, was a dream trip for her."
Older travellers are also eager to check out newly-accessible destinations.
Cruises through the Northwest Passage in the Arctic are one example; another is Saudi Arabia, which has six UNESCO World Heritage sights and has recently opened its doors to tourism. "We are running an archaeology tour to Saudi Arabia looking at the ruins of some ancient civilisations such as the Nabateans, the same kingdom that built Petra in Jordan," Evan says.
Australia has plenty of its own bucket-list destinations. Some older travellers are finally taking long-planned trips to Tasmania or Kangaroo Island; for others, the remote Kimberley coast is top of the list.
One common trend among these travellers: they don't want to rush the experience. "People have looked forward to these trips for so long. They want to do everything that there is to do; they don't want to get home having missed some- thing out. It's about treating themselves," says Michelle.
That doesn't have to mean splurging on five-star hotels: it could just be extending a trip from two weeks to four weeks so you can really savour each day.
The most essential luxury, according to Michelle, is investing in a good guide. Their insights into the local people and culture can lift a trip from ordinary to extraordinary.
"If you're going to Egypt, see it with an archaeologist who will have you living that history. The best guides know how to make the experience work, right down to when to visit each temple so that you're not seeing it with all the crowds."
Travel tips for seniors - booming bucket-list trips
#1: The African safari No matter how many wildlife documentaries you have watched, nothing matches the thrill of encountering Africa's wildlife in the flesh. Seniors should consider an African safari because it is a once-in-a-lifetime opportunity to see some of the most amazing wildlife on the planet. It can also be a great way for seniors to get some exercise and fresh air, while also learning about African culture and history.
#2: The see-it-all adventure in South America When you have always wanted to explore a particular part of the world and haven't been there yet, what do you do? Book a sampler- style trip that takes in the region's greatest hits.
If you are a senior who is considering travelling to South America, do your research and find a destination that is right for you. There are many different countries and cultures to explore, so you are sure to find something that you will love. South America is a continent with natural beauty, diverse cultures, and exciting activities. Travelling to South America can be a great way for seniors to stay active, learn new things, and make memories that will last a lifetime.
#3: The walking holiday in Spanish Camino It's the ultimate in slow travel, and a great way to discover a new destination. Whether you plan your walking trip with mates or make new friends along the way, indelible memories are guaranteed. The Spanish Camino is a challenging but rewarding pilgrimage that can help seniors stay active and connect with their inner selves. It is also a great way to learn about Spanish culture and history, and to meet other people from all over the world.
Your northern Spain trip could combine day walks along the Camino de Santiago pilgrim paths, with a range of food experiences available from cooking demonstrations to meals at Michelin-starred restaurants.
#4: The close-to-home adventure in the Kimberly You don't have to leave the country to have a luxury adventure. Australia's more remote corners offer some unforgettable and popular wilderness experiences. You could take in many sights, from the world heritage-listed Bungle Bungles to a helicopter trip to the Mitchell Falls.
The Kimberley is a vast and rugged region with a rich history and culture, making it a great destination for seniors who are looking for an active and adventurous holiday.
It is also home to some of the most spectacular natural scenery in Australia, including towering gorges, ancient rock art, and pristine beaches. These natural wonders are sure to leave you in awe.
#5: The DIY option in glorious South Australia A self-drive tour lets you discover Australia's remarkable landscapes and attractions at your own pace, timeframe and budget.
If you're headed to South Australia for a trip round its celebrated wine regions, or are after a shorter bucket-list break, head across to Kangaroo Island and take your own car (or hire on the island) and explore the rugged coastal scenery at your leisure, staying overnight in oceanfront hotels and spotting sea lions, penguins and koalas by day.
#6: An immersive experience in Hokkaido Is there a destination you have always wanted to revisit? Then find an itinerary that lets you discover the places that most travellers miss. The less-visited northern island of Hokkaido in Japan immerses guests in all aspects of Japanese culture, from its art and food to its gardens and temples. Many tours end in Tokyo to experience the city's beautiful landscape gardens.
Japan is a very accessible country, with ramps and elevators in most public places, so great for seniors who might have accessibility issues. There are a wide variety of experiences to be had in Japan, from visiting ancient temples and shrines to exploring modern cities. The food in Japan is delicious and varied, and there are many restaurants that cater to all tastes.
Bucket-list fast facts
The Australian Seniors Series: Travel Trends Report 2022 finds:
24% are planning indulgent, luxurious holidays
49% are searching for new experiences
72% don't worry about spending the kids' inheritance on holiday
To see the full results: The Australian Seniors Series: Travel Trends Report 2022.
25 Jul 2023