The Australian Seniors Series: Travel Trends Report 2022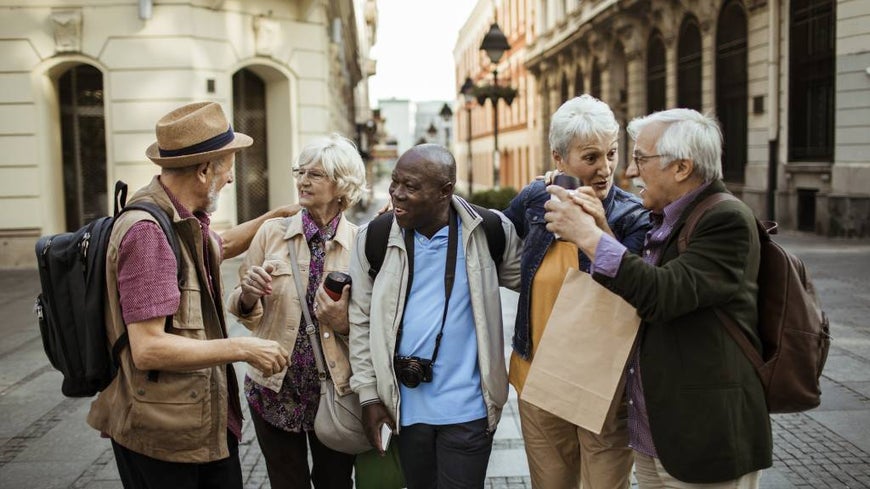 Two years on from the first border closures, many are ready to shake off their cabin fever and edge slowly back to domestic and international travel. After a difficult couple of years, planning your next holiday can feel like a breath of relief and a chance to unwind and escape the stresses of everyday life. But as people learn to navigate the uncertainty of the rising cost of living, ongoing pandemic concerns, and wars and conflict abroad, many want to play it safe.
About the report
The Travel Trends Report 2022 forms part of the Australian Seniors Series, which explores the subject matters most important to the senior community. Surveying more than 1,000 Australians over 50, this in-depth study uncovers how the travel landscape is changing post-pandemic, with a specific focus on the effect of global events, the uncertainty they have created, and how this impacts destination preferences.
Live, learn, indulge Travel has always been something that people cherish, and after two long years of border closures, most are ready to get back out there and experience what the world has to offer. For 2 in 3 (66%), it's been at least three years or more since their last big holiday, so it's no surprise that nearly three-quarters (74%) are already making travel plans. The majority (65%) say that relaxation is a key reason for planning their next holiday, giving them an opportunity to come up for air after recent challenges. The over 50s are also returning to travel to learn about the world (51%), search for new experiences (49%), and indulge (46%).
Holiday in your backyard It's clear that some (29%) were dreaming of a European adventure while fighting off cabin fever over the past few years, with Europe topping the list as the most popular destination in 2022. However, while most of us are excited to resume travelling, recent global events like the pandemic, wars, and the rising cost of living have made seniors change the way they perceive certain destinations.
For instance, with more than half (54%) still mindful of COVID-19 related risks, it's tough to overlook the security and freedoms of domestic travel plans, clearly shown with Australian destinations following closely in second (23%). In fact, more than a third (36%) are more likely to consider travelling around Australia now than two years ago. Other places of interest included the Pacific Islands and New Zealand (13%), exploring the state they live in (9%), and North America (9%). Australia is the preferred destination for quality time with family (31%), while North America is sought after for wildlife and nature discovery (34%). Interestingly, cruises are rising in popularity again despite the events of 2020, which put the cruising industry under pressure. In fact, as many as 3 in 5 (61%) are considering a cruise for their next holiday, with a further three-quarters (76%) agreeing it's one of the most sociable forms of travel.
Brave new world Despite the enthusiasm to get back out there and travel, the vast majority are still sceptical when planning their next holiday, given the ongoing uncertainty of the everyday.
With more than half (54%) worrying about contracting COVID-19 while overseas, and 4 in 5 (80%) feeling that holidays are becoming less affordable as the cost of living surges, it's no wonder that the vast majority (90%) don't feel comfortable making plans to travel abroad without travel insurance. In fact, 3 in 5 (58%) agree that they're more likely to consider travel insurance now than before the pandemic.
Concerns about the current climate of uncertainty are also deterring seniors from visiting certain locations, including Eastern Europe due to the war in Ukraine (74%), Turkey and the Middle East due to terrorism (64%), and Hong Kong, China, and South Korea due to ongoing COVID-19 health orders and lockdown measures (63%).
Time to use those credits When it comes to funding our holidays, nearly all (90%) admit to dipping into their savings. However, cancellations over the past few years have seen more than 1 in 5 (21%) accumulate travel credits, providing them with an excuse to travel by using the credits and putting more towards their holiday. Despite how common this is, as many as 1 in 3 (35%) admit that redeeming these credits is a difficult and time-consuming process.
Associate Professor in Tourism at The University of Queensland, Gabby Walters, offers sage advice for those Australians feeling anxious about travel plans: "The travel sector is very much in the early stages of recovery and COVID is still causing great disruption, however there are a number of actions travellers can take to ensure they are protected should things not go to plan. Pay close attention to cancellation policies, whether these be from accommodation providers or airlines. Some will offer a credit while others will offer full refunds. If a credit is the only option, it is important to check the terms and conditions of the credit redemption - some are more restrictive than others. If travelling overseas, checking the status of the intended destination via online sources such as smarttraveller.gov.au and the equivalent host destination site is wise as COVID related regulations and policies will differ country to country. Finally, consider travel insurance as this can be a good way to add some peace of mind to your next holiday, however it's worth paying close attention to the terms and conditions as they vary significantly between providers.
Stay tuned for the next chapter of the Australian Seniors Series – a report for seniors by Australian Seniors.
1 Sep 2022