Top activities for seniors in Perth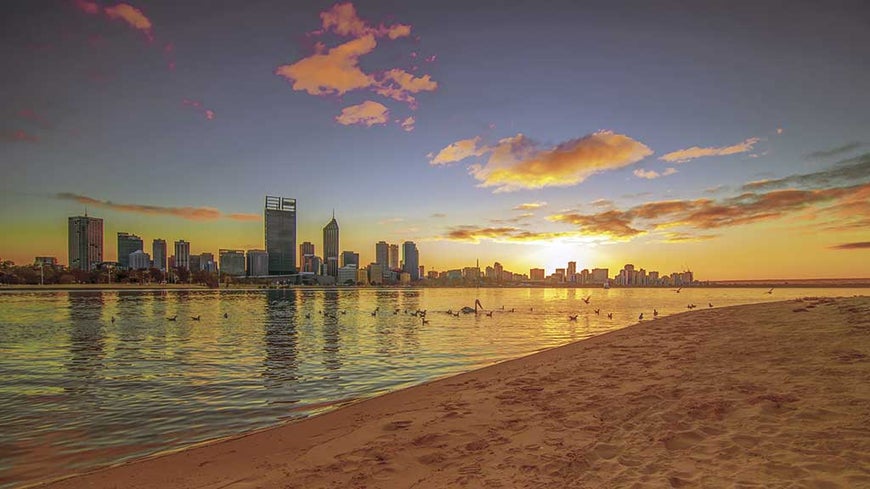 With spectacular beaches, a temperate climate and a vibrant inner city, seniors in Perth are spoilt for choice when it comes to recreation and activities. If you are a senior who is planning to get more involved in your community, or simply want to explore more of Perth, here are some great ideas to get you started.
Enjoy the local parks and botanical gardens
Known as a parkland oasis,1 Perth is home to many beautiful green spaces, reserves, and gardens perfect for a slow day out or a picnic with friends. The city has 16 major parklands,2 including the Swan River foreshore parklands. Most offer facilities such as seating, drinking fountains, toilets and exercise stations. For seniors, these are great places for a gentle stroll, a barbeque or picnic, or a day out with the grandkids.
Join a computer club
According to the Australians Seniors Computer Club Association there are 34 computer clubs in Western Australia. If you have always wanted to upgrade your computer and internet skills, why not join one of these clubs and make friends with other seniors?3 Some of these clubs provide free training and resources on using computers and information technology.
Explore the city's diverse precincts
Perth is filled with diverse suburbs and hubs, each with their own unique atmosphere and attractions.4 For example Wolf Lane is home to a range of charming cafes, bars, and boutiques, making it an ideal place for a relaxing afternoon out. Other precincts to explore include Subiaco in Leederville with its vintage and antique shops, or Northbridge for some shopping and cafes.
Spend a day in the seaside port of Fremantle
Fremantle Harbour is just 30 minutes from the city centre.5 This atmospheric port is home to attractions such as the Arts Centre and the Old Courthouse. The Maritime Museum is a must-see, along with the Shipwreck Galleries. You can relax in one of the local pubs after your sightseeing or check out a craft brewery.
Immerse yourself in the arts at the Cultural Centre
Perth's Cultural Centre is home to the Western Australian Museum, the Art Gallery of Western Australia, the Library and Information Service of Western Australia, the Perth Institute of Contemporary Arts and The Blue Room Theatre. There are plenty of exhibitions, performing arts, and galleries to immerse yourself in, and getting there is easy thanks to the close-by Perth Central Train Station. To find out what's on at the Cultural Centre, check out their website6 for more information.
Contribute to wildlife, plant, and scientific studies
If you enjoy bird watching or spotting wildlife you can contribute to large-scale studies through various programs. Birdlife Australia is always seeking volunteers7 for its bird conservation surveys, while ClimateWatch invites volunteers to help them identify8 certain plant or wildlife species – and all you need is a smartphone and the right app. Getting involved in citizen science projects such as these can keep you engaged with your community and keep your mind sharp.
Go sailing
Perth is a great city for sailing, so if you've always wanted to try your hand at it maybe this is the right time to start! You can join a club or organise your own sailing group. For local clubs, there's the Royal Perth Yacht Club9 (which offers beginner's courses through its Discover Sailing Centre),10 Perth Dinghy Sailing Club and Royal Freshwater Bay Yacht Club,11 among others.
Take a day trip
If you like to get away for short trips every now and again, Perth has numerous sightseeing destinations in its surrounds.12 Join a day-trip tour or organise your own with fellow seniors for an exciting day out:
Rottnest Island – Just 19 kilometres from Perth and accessible by ferry or private boat, Rottnest Island13 seems a world away with its famously cute quokka, stunning beaches, coral reefs and amazing scenery.
Swan Valley Vineyards – Home to more than 40 vineyards, Swan Valley is just 25 minutes from Perth. Cycle through the vineyards, join an upriver cruise, have a sneaky glass of wine and enjoy the scenery.
The Mandurah Estuary and Peel Inlet – The Mandurah Estuary and Peel Inlet are just an hour's drive from Perth, and their 155 square kilometres of waterways are a popular playground for boating and wildlife watching. You can hire a boat or join a cruise to see dolphins and watch birds before heading back to land for some delicious seafood, including river prawns and blue swimmer crabs.
Join a local leisure activity centre
Joining a club introduces you to a whole new world of regular local activities and a new social group with other seniors. Many of Perth's suburbs and regions are home14 to senior and/or leisure activity centres and RSL clubs that offer a range of activities for members. These include crafts, movies, exercise sessions, lunches, games and excursions. Excursions can include trips to markets, wineries, restaurants and plant nurseries.
Join a community organisation and volunteer
If you'd like to contribute to your local community, why not check out what's going on around you and start volunteering?15 From community care to local environmental initiatives, to fundraising and sports, there are many opportunities for volunteering in your local area. Volunteering is an excellent opportunity to stay active and engaged while giving back to your community.
22 Nov 2016