Fun family holiday destinations to get you travelling again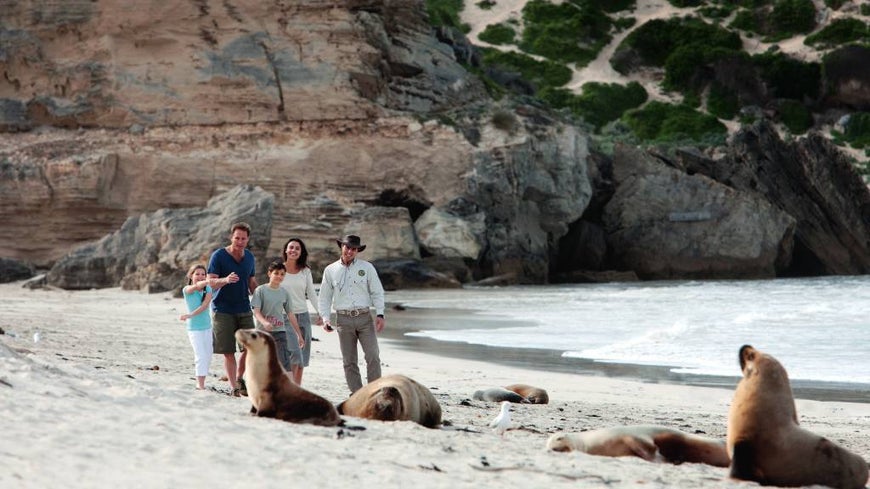 There are many reasons to love Australia, and while the bushfires are now far from the headlines, locals are still rebuilding. So, support the areas hit the hardest – and enjoy the perfect holiday at the same time.
Kangaroo Island in South Australia – a unique destination for adventurous families
Affectionately called 'KI', this place is teeming with wildlife, white sandy beaches and the bluest water you've ever seen. It's renowned for its dining scene, with a wide range of local, seasonal and artisan products.
Sleep at a wilderness retreat
Cape Cassini Wilderness Retreat is the island's only eco-accredited B&B and self-contained accommodation. Features include a wind- and solar-powered energy system, a separate waste system, and an organic orchard and vegetable garden.
Eat fish and chips by the Esplanade
According to the locals, the unassuming Kangaroo Island Fresh Seafoods, attached to a petrol station in Kingscote, is the best place for a fish feast. Insiders suggest the flake or King George whiting with chips. Dine in or stroll the Esplanade.
Watch whales on an ocean safari
Whales pass through on their annual migration between May and October, and a great way to see them – as well as wild dolphins, seals, eagles and other sea birds – is to book a 75-minute Kangaroo Island Ocean Safari.
East Gippsland in Victoria – a paradise for nature lovers
Families flock here for the camping, fishing, bushwalking, cycling and boating amid untouched coastlines and stunning national parks – as well as great food and wine.
Sleep by the beach
Set among 2.5 hectares of parkland, Mallacoota's Shady Gully Caravan Park has cabins and large sites. The grandkids will love the saltwater pool or a stroll to the beach. It's just 1km from the town centre and minutes from the Mallacoota Inlet.
Eat local meat and seafood
The deck of the Marlo Hotel overlooking the Snowy River Estuary is a great spot for a family lunch. A couple of hours' drive south of Mallacoota, it's famed for its views and its bistro fare – the bread, meat and seafood are all sourced locally. Try a lemon pepper calamari share plate followed by a burger or fish and chips.
Cycle through country road and rainforest
There's a range of bike tours and day rides which follow country roads past rivers and through pockets of rainforest set between lakes and farmland. Try a self-guided day ride with Snowy River Cycling.
The Blue Mountains in New South Wales- relaxing mountainside escape As well as bushwalking options, the region is bustling with quaint historic villages. Each has a unique culture, with quirky cafes, and boutique clothing and antiques stores.
Sleep by one of Australia's great natural wonders
Lilianfels Blue Mountains Resort & Spa, a sprawling historic house with English-style gardens, is set in a spectacular location overlooking the Jamison Valley. The five-star resort, a short walk from the Three Sisters lookout at Echo Point, has grand fireplaces, heated pools, library and gym.
Eat modern Australian cuisine in a luxury setting
Silk's Brasserie, in the heart of Leura village, is considered the go-to for fine dining. Think modern Australian cuisine in a vintage setting featuring black and white chequerboard floors, Parisian-style bar and crisp linen-covered tables.
Light up the darkness with a glow worms tour
In a dark canyon near Mount Tomah, a magical world awaits. Join a guided walk with Blue Mountains Glow Worm Tours into the canyon and thousands of glow worms will be revealed as your eyes adjust to the low light.
Australian Seniors' DARE magazine is out now! Get the latest information on heath, trending topics, food, fashion, celebrities and so much more.
DARE also features puzzles, in-depth articles and Australian guest writers.
7 Aug 2020