How to plan a pet funeral service in 4 steps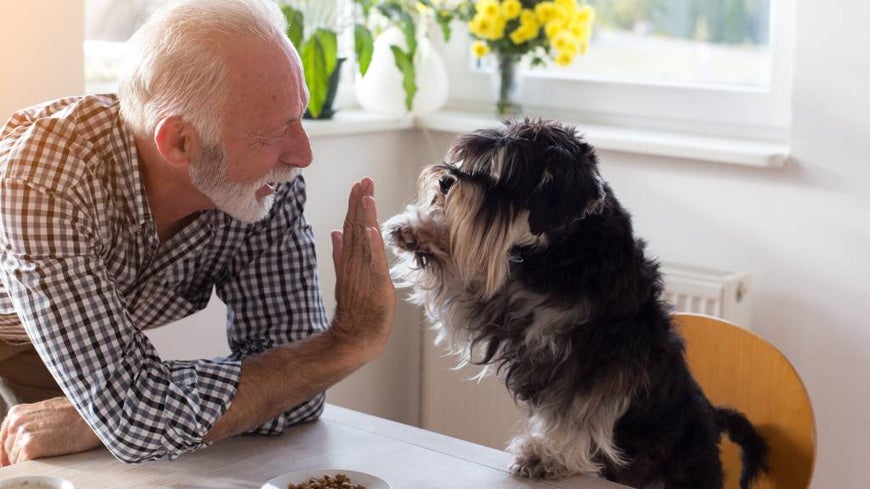 Pets are beloved members of many Australian families, with 62% of households having a dog, cat or other pet, and a total of 24 million pets across the country.¹
Pets bring companionship and joy to our lives, and pet ownership is associated with a range of health benefits, including fewer visits to the doctor and reduced symptoms of depression.² However, with great love comes vulnerability. Having a pet that's ill or passes away can bring great stress and grief.
If you're experiencing the loss of a pet and want to commemorate their life, here are four steps to planning a memorable pet funeral service.
Step 1: Funeral at home or pet funeral home?
First, you'll need to decide whether you prefer a private funeral at your home or want to let the professionals handle things at a pet funeral home.
Burying a pet in your backyard is legal in some states³, however consider whether it's safe (if your pet had an infectious disease or was euthanised with toxic chemicals, a backyard burial is not ideal). It's best to consult your vet in this case.
Get quotes from pet funeral homes and decide whether your budget will cover the costs.
A pet funeral home can usually give you the option of burial or cremation, and give you advice and ideas to help create a memorable send-off.
Step 2: Deciding on burial or cremation
Cremation is an affordable option that still allows you to have a permanent memory of your pet in the form of an urn of ashes.
Only a private cremation involves your pet being cremated alone. Other options involve several other pets being cremated together, so make sure you clarify this with the funeral home before choosing an option.
Step 3: Commemorating your pet
A pet funeral can be as elaborate or as simple as you like.
Think about whether you want a eulogy, music or speeches.
Decide who you'd like to attend the funeral.
Plan the funeral with the attendees in mind, especially if there are children or someone who was particularly fond of the pet attending.
Make things memorable and warm – sing a song, place your pet's favourite toy in the coffin and ask your family about their favourite memories of your pet.
Step 4: Choosing a final resting place
If you're planning a burial, there are a range of options available for grave markers – you can ask a local pet funeral home or order one online.
There are also a range of options for the storage of your pet's ashes if you choose cremation, including urns, jewellery that stores some of the ashes and even glass keepsakes infused with the ashes.
Your pet's ashes could also be buried or spread somewhere special – remember to get permission from the landholder of private property or check with your local council or parks authority for public land.⁴
The relationship that you have with your pet is a deeply personal one, so it's only fitting that their final send-off is the same. While losing a pet is distressing, sad and often overwhelming, a memorable ceremony can help ease the grieving process. Read more how to farewell your pet to help you through the process of saying goodbye.
Losing a pet is always difficult, but giving them a wonderful and loving farewell can help with the process of letting go and celebrating their life. Pet Insurance can help with costs before the loss of your beloved family member, and can even pay for essential euthanasia. Find out more about Pet Insurance options with Australian Seniors.
16 Jul 2019