Should you remember your pet with a pet funeral?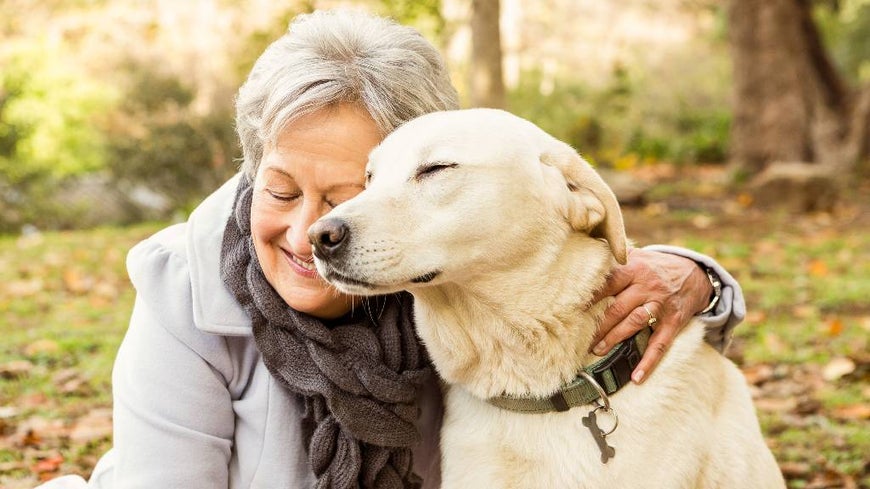 Pets have long been our most trusted and loyal companions. However, these days many people see them as more than just pets, with with many Australian households considering their pets to be part of the family.
So, should you have a pet funeral when your beloved companion passes away? We all know that the joys of having a four-legged member of the family, come with an emotional cost. It's distressing when they become ill and losing a pet can be devastating. For this reason, it's understandable that many people want to pay tribute to their pet's life and say goodbye in a special way. With this in mind, it's no surprise that the way we say farewell and remember our pets is becoming more thoughtful.
Why hold a pet funeral?
Funerals can provide a sense of closure and a time to reflect, and most importantly they connect us with a supportive group of people. Holding a funeral to commemorate your pet's life and say goodbye can also help you move through the grieving process.
After losing a pet, remember:
everybody grieves differently – do what feels right for you
think twice before rushing out to replace your pet with another one
there's no rule about how long the grieving period lasts
ask for support from relatives and friends who understand what you're feeling
make sure you continue to eat and sleep well and generally look after yourself.
Commemorating your pet
There isn't a one-size-fits all approach for commemorating your pet – everyone wants to remember their pet in special way.
Beyond holding a memorable service of funeral, you can commemorate your pet in unique ways such as:
commissioning a portrait of you and your pet
donating your time or money to a pet shelter
planting a tree in your pet's honour in their favourite part of the backyard. If they were an indoor pet, you may want to place an indoor-plant in their favourite spot in your home
creating a memento: some artists like Heart Felt Customs will create a plush toy replica of your pet for you to remember them by
Ashes to Ashes is an Australian company that commemorates your pet by sending their ashes into the sky as fireworks
if you had a furry pet, you can have their hair spun into a scarf or blanket
use your pet's collar tag to create a memorable piece of wearable jewellery.
Burial options
There are many options for laying your pet to rest, from burial through to a private cremation. If you're stuck or unsure, you can ask for assistance from:
your local vet
your local council
local pet funeral homes and cemeteries.
If your pet passes away while in the care of your vet, they will likely step you through the options.
Some pet owners choose to have their pet cremated or buried in a pet cemetery, similar to how we deal with the death of a person. This allows you to keep a permanent memorial to your pet, whether it's a memorial plaque at a cemetery or an urn storing your pet's ashes on the mantelpiece.
There are many Australian companies that offer pet cremations, funerals and memorials. Make sure you ask plenty of questions before deciding on a company, including the costs and whether your pet will be cremated individually, or with other pets.
Some pet owners pay a small fee to a vet who will arrange the disposal of the pet, take the pet to a facility that provides pet disposal, or donate them to a university for research purposes.
While burying your pet in your backyard may be an option, it's best to check your state's laws and local council requirements before going ahead with this option. While a backyard burial can provide you with comfort, there have been warnings in the media recently that it can be a risky option.
If you plan to scatter your pet's ashes in their favourite park or another special place, you may need permission, and if it's private land, you'll need to get permission from the land owner first. On public land, like a local park, you should first check with your local council just to be on the safe side. Sometimes there are restrictions on the time and place that ashes can be scattered in public places.
Along with budget restrictions, the way you choose to lay your pet to rest will depend on your personal preferences and views. If your pet had multiple owners or a family, speak to them about how they want to say goodbye – everyone deserves to be able to say goodbye in their own way.
Can you afford a pet funeral?
While most of us would love to send off our furry friend in a grand way – fitting of their status within the family – the costs can add up quickly.
The standard cost to cremate a pet is around $500, however the costs associated with getting your animal to a crematorium can be double that or more – depending on your location and the size of your pet.
If you're planning a funeral, complete with coffin, service and memorial plaque or urn, then that may raise the final bill significantly
Where to find help
Losing someone that's been a big part of your everyday life is difficult – whether they are a human or a pet. Don't be reluctant to ask for help in dealing with the emotional pain and practical problems that come with losing a pet.
Reach out to friends and family who've been through the same loss or who will understand your grief. These people will have tips and thoughts on how to cope with the emotional pain. If you're still struggling emotionally or mentally, contact one of these professional organisations:
16 Jul 2019