The Australian Seniors Series: The Cost of Death
As we age, we begin to embrace life more than ever before, and we find that globetrotting, upskilling, taking care of our grandchildren (and in some cases our own children!) can fill our days. When we have so much going on and are pulled in all sorts of directions, our family's financial security can sometimes fall off the radar.
Despite these day-to-day factors, how can we make ourselves financially ready for death?
The Cost of Death report is the fifteenth instalment of the Australian Seniors Series, an ongoing national study investigating the shifting attitudes and concerns affecting Australia's over 50s. This chapter explores the financial and family impacts of death, the importance of having conversations around death, as well as latest funeral trends.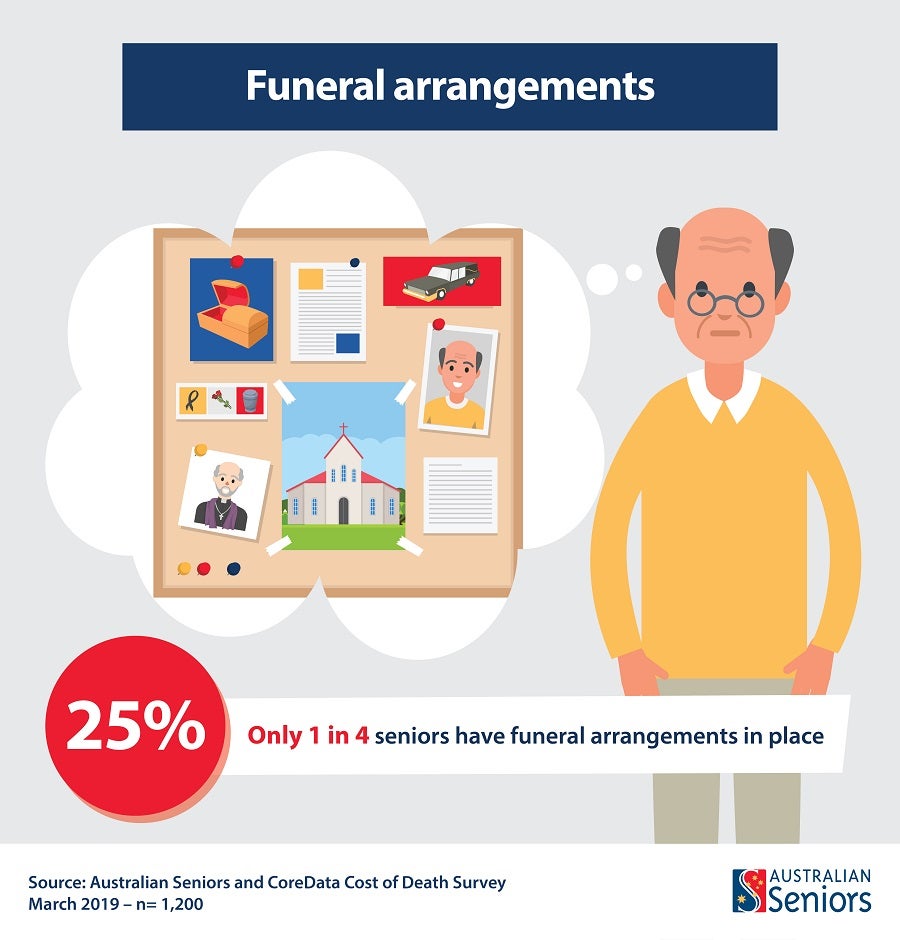 The pattern is clear – as a nation we seem to keep death out of sight and out of mind. Only 1 in 4 (25%) of us have funeral arrangements in place and most of us don't understand the seemingly high costs surrounding the process.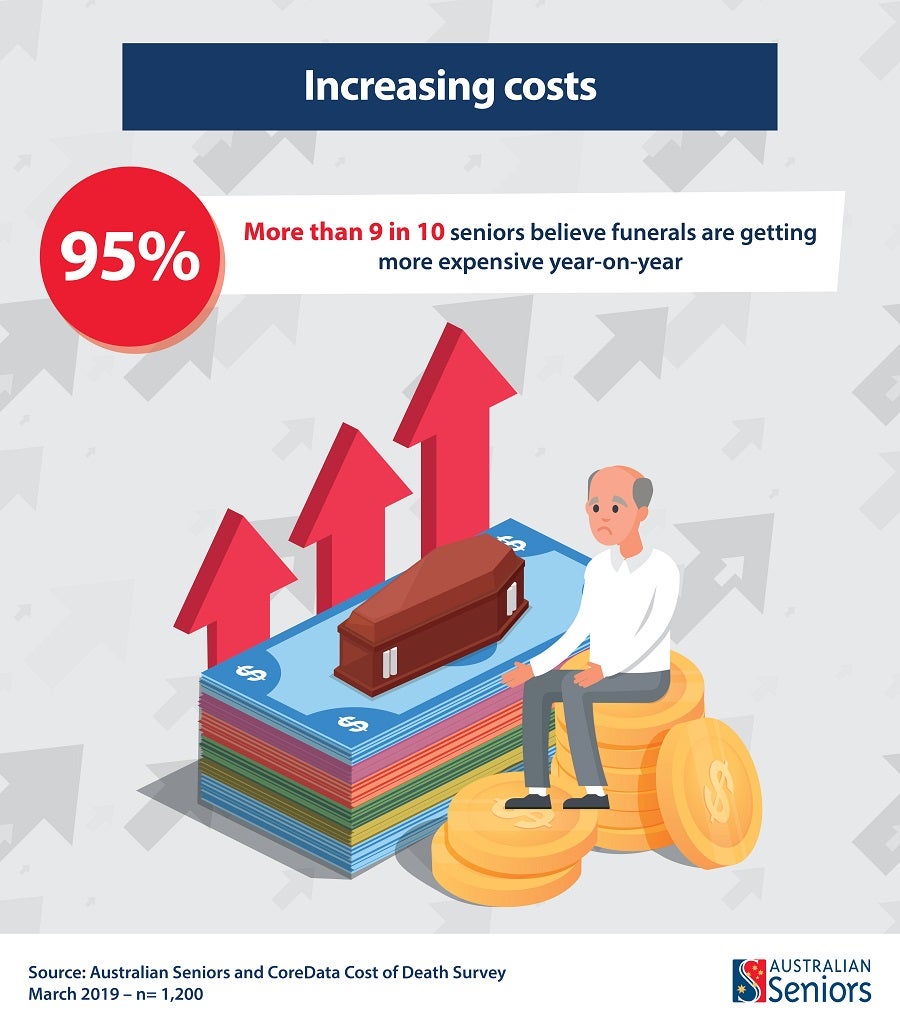 As such, close relatives are often left out-of-pocket or in financial hardship after farewelling their loved ones. More than 9 in 10 people (94.8%) believe funerals are getting more expensive year-on-year. Whilst 89.3% of people also believe the rising cost of funerals exceeds the rise in cost of living at close to $10,000 on average. Given this, it is no wonder the majority (95.4%) of us believe the cost of a funeral places unnecessary stress on loved ones.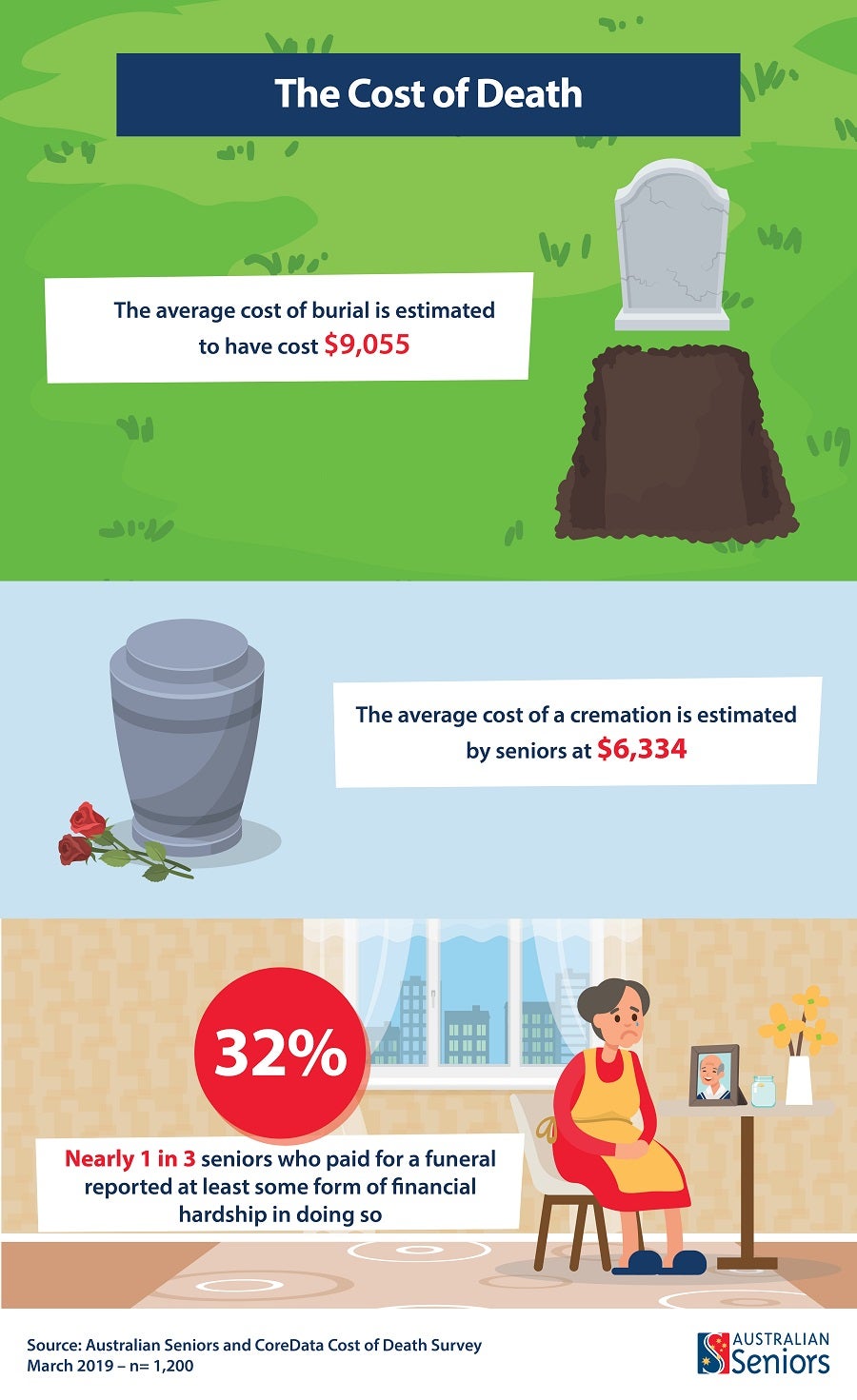 For those of us that have paid for a funeral, 1 in 3 (32.0%) experienced financial hardship in doing so, with the financial impact taking some time to recover from. Among those of us who have experienced financial burden, the majority (68.4%) say it took about 6 months or longer to recover.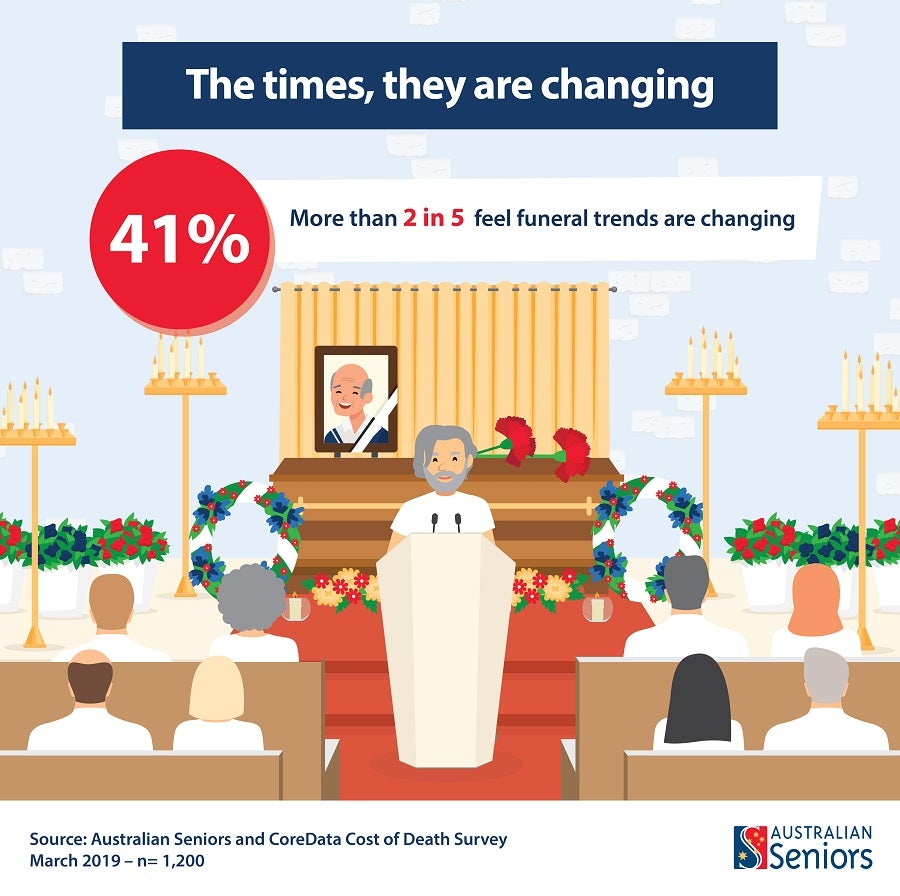 Traditional funerals such as burials are not only expensive, they are becoming increasingly outdated. We have lived a life that's been anything but ordinary, and our funerals should reflect that.
No matter how we've spent our life, in the outback or by the ocean, there are new and environmentally friendly funeral trends to embrace that won't break the bank. It's no wonder 2 in 5 (41%) of us feel the trends are changing.
Although trends are changing, cremations are still popular and especially in metro areas, with close to 7 in 10 (68.8%) paying for this burial method. The cremation trend is driven by a number of factors; at the top of the list is grave availability, closely followed by the transitive nature of modern lifestyles. With our loved ones more transient and on-the-go, it's far more practical to take an urn with us. However, we are still spending on average upwards of $6,000 for this method.
Changing with the times also brings a movement towards eco-friendly funerals. Despite a low level of us 3 in 10 (29.6%) seeing a movement towards eco-friendly/green funerals, internationally there is a greater shift towards these types of funerals. The alternative methods include, burying shrouds vertically then planting trees on top, or using GPS trackers rather than headstones to find bodies buried outside traditional locations.
Graveyards and burial locations like these are yet to be legalised in Australia, but funeral professionals believe this will soon change. Until then, if sustainability is top-of-mind, Australians have the option to be buried in cardboard or bamboo coffins.
For more wallet-wise alternatives, virtual and webcast funerals are a popular way for those out of state and country, or otherwise unable to attend the ceremony and receive closure. The majority (85.5%) of us believe lavish and expensive funerals in general are on the way out in Australia.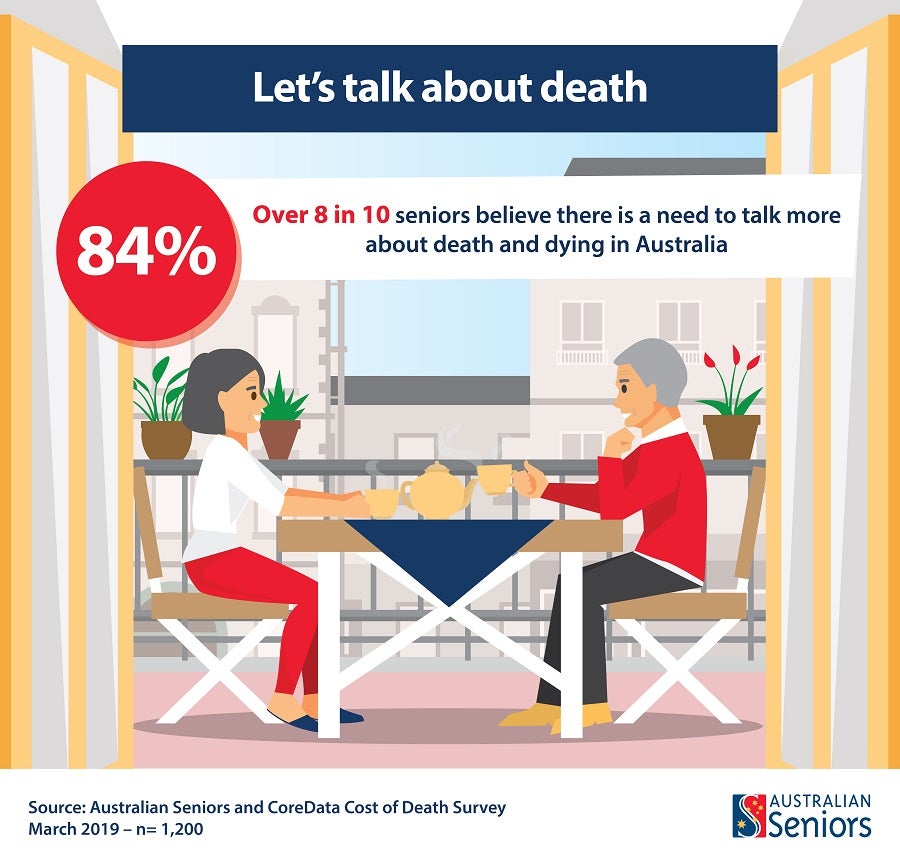 It's no surprise 8 in 10 of us (84%) believe we need to be more open to talking about death with our loved ones. Although we need to consider taking more responsibility for our own arrangements, we can be more proactive about giving our family members this reassurance too.
No matter the cost of our final wishes, we deserve a farewell that is true to ourselves and is a testament to the amazing life we have lived. However, it's important we keep these plans top-of-mind to ensure those we are leaving behind are looked after as well.
Stay tuned for the next chapter of the Australian Seniors Series! A report for seniors, by seniors.
4 Jul 2019