How much does a funeral cost?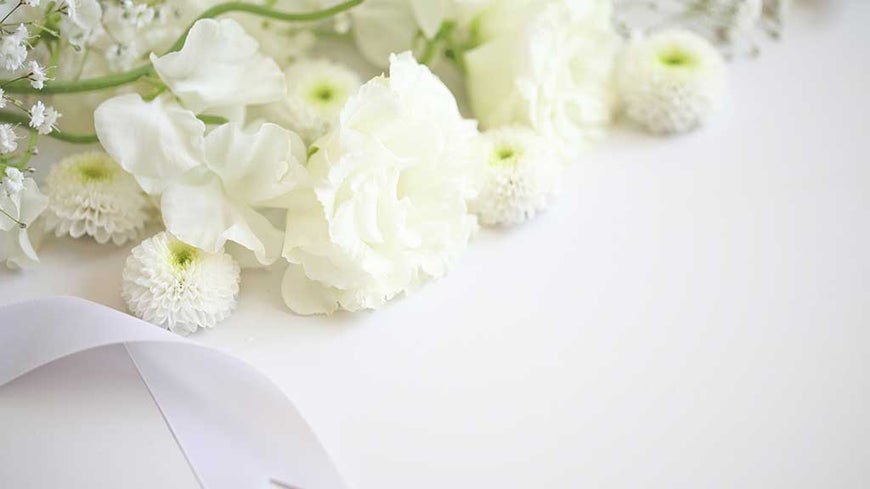 Funerals are a time when we say goodbye to our loved ones and reminisce on happy memories. But funerals can also be expensive, and may cause financial stress for those left behind.
The cost of a traditional funeral usually includes the funeral director's fee, as well as the price of a casket, burial plot, flowers, and transport. These items can add up to a significant amount, and this amount will continue to rise with inflation. For example, the Australian Seniors Cost of Death Report found that the average cost of a premium burial in Australia is $11,279, with some services costing as much as $19,000.
Our funeral cost calculator can help to determine just how much your family may need for your final farewell.
What's involved?
Here are some of the types of costs you may encounter when planning a funeral. Funeral costs vary depending on what state or territory you live in and are dependent on your local suppliers too. The figures below are subject to change, and are just examples, rather than averages.
Some figures are sourced from the Australian Seniors Cost of Death Report and other sources as referenced. Please do your own research, as these figures are guides only. With that in mind, here are some of the general costs you might encounter when planning a funeral. It's worth factoring them into your planning.
Which type of funeral costs less?
The cost of a funeral service varies widely depending on what you choose. If you're planning your own funeral, you'll probably have a budget in mind, and it pays to shop around.
How much does cremation cost?
Generally, cremation is cheaper than burial, and is estimated to cost between $3,108 to $7,187 in Australia, according to the Cost of Death Report.
As well as costs, you should think about whether a cremation is the right service for your family. While there is no gravesite that your family can visit, they can scatter your ashes in a place that means something special to you, such as a favourite beach.
You can also choose to have your ashes kept somewhere such as a memorial wall or garden in a cemetery for example. While this gives your loved ones a place to visit, it is also more expensive.
How much does burial cost?
Burials are often more expensive than cremations. Much of the expense of a burial is associated with the burial plot. The Cost of Death Report reveals that depending on your location and the exact type of service you choose, a premium burial in Australia can cost almost $19,000 in an area of metropolitan Sydney, and over $13,000 in both Tasmania and the Australian Capital Territory.
Some Australians prefer to choose a burial service over a cremation for religious and family traditions. The benefits of this include having a designated site where your family can visit to remember you. Your loved ones can also bring flowers and take care of the burial site, which can be very comforting.
Ways to save on funeral costs
If you would prefer to have a more basic service, there are a number of ways you can reduce the costs of your funeral:
Cremation: Opt for cremation rather than burial to save on one of the most significant costs.
Compare: Shop around to compare online, and visit various funeral directors to obtain price lists.
Basic coffin: Choose a basic wooden coffin if being cremated, as it will be cremated along with your remains.
Home service: Hold a memorial service at the house of a friend or loved one (commonly known as a wake).
Self-drive: Save on funeral cars and limousines by arranging for family members to drive their own cars.
Share online: Save on the cost of a newspaper notice and share the details of the funeral online via email/social media.
Who can afford to pay for funeral expenses at short notice?
Although it's not something anyone likes to think about, it makes sense to prepare for your funeral now.
Remember, your funeral will be a very difficult and emotional time for your family, but you can help make this difficult time easier for them by taking out funeral insurance to help cover the cost. Preparing for your funeral is one of the more responsible things you can do for those you leave behind, as you are taking the risk of potential financial burden away. After all, you wouldn't want to risk leaving your family with the financial stress of your funeral expenses, especially when they are grieving.
Funeral insurance pays a lump sum benefit to your loved ones when the time comes, which helps them to say goodbye without the added worry of funeral expenses and unpaid bills.
Benefits of funeral insurance
These are some of the ways Seniors Funeral Insurance can protect your family from financial stress:
A lump sum payout to help cover funeral costs and other immediate expenses.
100% paid to you if you are diagnosed with a terminal illness1
Claims are paid out tax-free and usually within 1 business day of completed claim documents being received, so your loved ones get financial support when they need it.
You can choose the benefit amount (between $3,000 and $15,000) to be paid in the event of your death or terminal illness.
Australian residents aged between 40 and 79 are guaranteed acceptance, with no medical tests required.
Bonus cover – at age 85, your cover will increase by 25% and you'll no longer have to pay to stay covered.
For detail and disclaimers on the above points, please visit the Seniors Funeral Insurance page.
30 Jan 2020