Resort-style easy living in your retirement years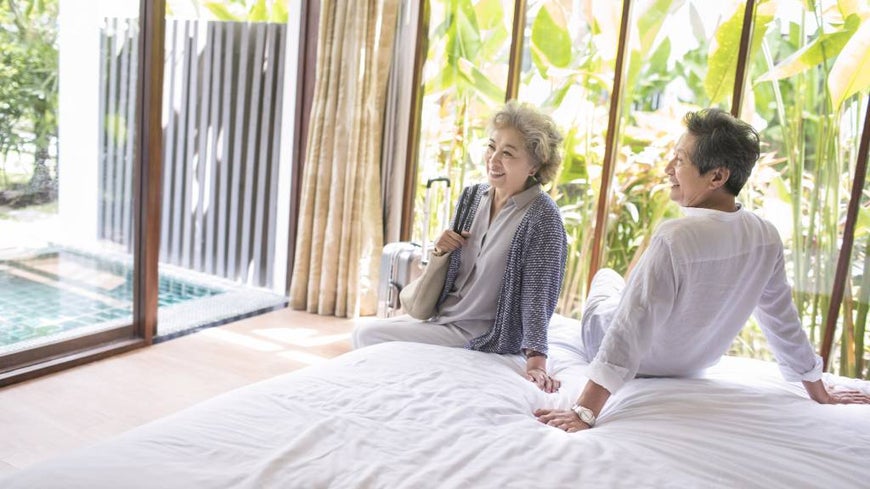 Written by Sue Williams for Australian Seniors.
It used to be a tough decision to give up a much-loved family home for a villa or apartment in a retirement village. But today more and more people are relishing the move – and the prospect of a new life in an expertly planned community with a pool, gym, spa, yoga studio, private cinema, wine cellar, hairdresser, nail salon, grocery shopping and more.
"These new retirement villages are a world away from the ones of old," says Sally Taylor, managing director of Provectus Care Group's Retirement by Moran, which offers retirement living options. "They were often more like gulags in the wilderness, a long way from anywhere, with few facilities and little to do."
"But Baby Boomers are the generation with a lot of wealth from rising property values and they want homes equal to, or better than, the ones they're leaving – they don't want to compromise. So, over the past 10 years, the industry has changed dramatically to accommodate them."
As a result, some people might find that the newer retirement villages might have more in common with luxury resorts than places to simply grow old. Some residents might feel that they are all about gaining a whole new lease of life. Susan Hain, for example, has no intention of slowing down. She and her husband Lindsay, after running their own roofing business for a gruelling 25 years, moved to an over 50s village and loved it so much, they've just bought a house being constructed at GemLife Pacific Paradise on Queensland's Sunshine Coast. While waiting for it to be completed, they've travelled around Australia in a motorhome.
An enviable lifestyle in retirement
"When you think of retirement villages, you think of people sitting around not doing much," says Susan, 67. "But you couldn't be further from the truth. The lifestyle is so busy and there's so much going on, you don't know how you once ever had the time to go to work."
"With these places, you can do as much or as little as you like. We like to lock up and leave and travel a lot and it's perfect for that – so safe and secure. At the same time, when you're home, there's so much to do. And the best thing is that you never have any screaming kids next door, and when someone has a noisy party, they're playing music from your generation that you know and love!" Susan and Lindsay, 73, have bought a three-bedroom home with a study – "So not really downsizing at all," she laughs – in Pacific Paradise, a development that comes with a gym, sauna, pools, beauty parlour, golf simulator, ten-pin bowling alley, tennis court, bowling green, bocce court, cinema, arts and craft studio, library, games room and more. So it's unlikely they'll be less busy any time soon.
"And that's perfectly okay," says Adrian Puljich, CEO of GemLife, "Retirement should be the best years of your life, the ones where you've unlocked the capital from your house and you're able to purchase a home in a gated community to enjoy a very high quality of life as well as all the amenities you could ever want access to."
"This is the time to enjoy the finer things in life as well as all the facilities with like-minded family and friends. It's about freedom of choice and promoting health and longevity so you can enjoy it all for as long as you can."
GemLife now has six over 50s resorts – or retirement villages – in Queensland, another three in NSW and one in Victoria. A number of others are being planned and are awaiting approval.
Purpose-built luxury for seniors
The retirement living sector is undergoing a major boom, with 23% of the population projected to be over 65 by 2060-61, according to the federal government's latest Intergenerational Report. In response, some savvy developers are busy building architect-designed quality homes for the cashed-up post-retirement Boomers, and stacking them with every activity imaginable.
These communities are finding a clientele ready and eager to move on from their former lives and embrace a whole new way of living. Some may feel they've done the hard yards – raising families, working diligently, investing wisely and looking after their homes, with all the maintenance that can be entailed. Now they're ready for some down time and want to make sure it's as gratifying as possible, while passing the responsibility for looking after their properties onto someone else.
Gwyn and Peter Carlisle are a couple who feel that keenly. They're about to make the move into new-style retirement living, having bought a three-bedroom, plus study, apartment off the plan in a complex being built on Sydney's North Shore. "We're pretty excited about it," says speech pathologist Gwyn, 65. "It feels like a whole new chapter in our lives. "
"We walked past this development one day during lockdown and thought what a terrific place for a retirement village, and less than a kilometre from where we've lived for the past nearly 40 years. And you look at the amenities they've planned, and the design, and they're just beautiful."
Peter, 67, a retired interior designer, liked what he saw on the plans for the 115-apartment Hyegrove Willoughby, part of the redevelopment of the Willoughby Legion Ex-Services Club, as well as the opportunity to have an input into the final look of the apartment. He also appreciates the gardens and landscaping outside, in addition to all the facilities within, like a pool, gym, concierge, cinema, art studio, Pilates and yoga studio, a rooftop terrace for entertaining, a private dining room, wine room, lounge bar and day spa.
"I think it was those facilities that got us in," he says. "We also travel a lot – outside of COVID-19 – and wanted a place we could lock up and leave. That freedom will be a wonderful bonus."
"Another important aspect is an integrated aged care component so, as apartment owners grow older, they can choose to have care in their own home, or can transfer to one of the 45 suites in the higher care facility on the same site. "That was the real clincher," Gwyn says. "We still have three parents in their early 90s and we're very aware of their needs. If one of us needs higher care, then we can still both be on the same campus. There's nothing worse than one person living somewhere and the other being somewhere else. So this feels like the perfect place where we can just relax and get on with living."
Demand has been so fierce that Hyegrove managing director Stephen Abolakian has brought forward the second stage of the development, to be completed in 2024. "We want to make sure people can just move in and enjoy all the amenities and never have to worry about anything," he says.
What is the cost of these resort style retirement living environments?
The homes in all these retirement villages can be similar to a high-end apartment, but can have a monthly management fee which can pay for things such as maintenance, services, insurances and land taxes . Different villages in different states and territories also have varying arrangements for when people leave. Some buy the homes back at their purchase price and others at market price, while other owners have arrangements for deferred fees that can be taken out of the eventual sale revenue.
The system has become much more ordered and transparent over the last five years with government inquiries into how villages are run. Former politician and social advocate Kathryn Greiner helmed an inquiry into the NSW retirement village sector in 2017, and says much has changed. "It looked like some of the contracts were written in Urdu rather than plain English and they were impossible to understand," she says. "But now they are much easier to read. They have to disclose conditions very clearly, have a six-month cooling off period without any loss of capital, and be upfront about what happens at the other end."
"Also, people now have an avenue to complain if anything goes wrong and we've tried to improve the training of staff. It can be a great way to live, with lots of companionship and a wonderful form of accommodation."
Independent living
Dr David Tuffley, a senior lecturer in applied ethics and cybersecurity at Queensland's Griffith University, has also studied the sector and found there's an increasing demand for vertical villages close to city centres, with homes like luxury hotel suites including plenty of in-house services and entertainment for technologically savvy residents.
"These new retirement villages are much more appealing than the conventional settings," he says. "With an ageing population, governments also want more healthy ageing in place, with technology to monitor people's health and keep them out of hospitals."
But the main thing that could keep older Australians happier and healthier for longer is likely to be the benefits of living as part of a vibrant community. "That's a big focus for us," says Samuel John, sales leader at Anglicare Sydney, which has 23 villages for older Australians, regardless of their personal religious beliefs.
"Everyone wants to be a part of a lively and enjoyable community, where you can be among like- minded people."
To see the full results, go to: The Australian Seniors Series: The 100 Year Lifespan survey
25 Oct 2022