How and why to establish your estate and power of attorney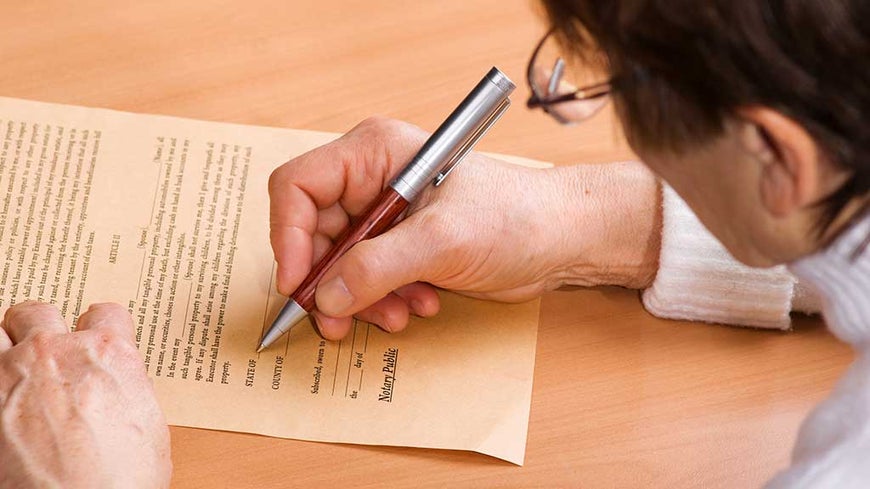 There are many reasons to undertake estate planning, make a power of attorney and establish an enduring guardianship. The primary reason being there can be major consequences for our loved ones and our estate when we die or if we are injured and unable to manage our own affairs. These planning measures can give you peace of mind that your affairs will be well taken care of according to your wishes. This is important to consider even if you don't think you have a lot of assets to be worried about.
The benefits of estate planning
Your estate plan is your coordinated approach to managing your affairs, both before and after death and enables you to make clear in legally binding documents how you want your assets, health care and guardianship matters dealt with when these issues become relevant in your life. Estate plans can include documents that specify how you want to be cared for if you are incapacitated, a will, enduring guardianship and attorney documents and also trust deed/s.1
Wills can be living wills, which provide medical care directives in the event of incapacitation, and last wills, which detail how you want your estate, which includes all of your assets, to be distributed when you die,1 and other matters such as who you would like to look after your minor children.
Testamentary trusts are usually set up to protect your assets, as part of your estate plan.2 These trusts typically take effect when you die, and they can help you protect assets for beneficiaries who are minors or who have diminished mental capacity.2 They can let you protect family assets from being split up if there is a divorce in your family, or protect assets from becoming part of bankruptcy proceedings.2 The trustee that you appoint will be the administrator of the trust.
Intended beneficiaries
With adequate estate planning, you can ensure that your intended beneficiaries receive specified assets – in contrast to what might happen by default.3 Many people mistakenly think that estate planning is only for the wealthy. In fact, estate planning is a good idea even if you have modest assets. You will want to make sure that your assets are passed on to your chosen beneficiaries upon your death. In the absence of an estate plan, disagreements that result in court actions can take years to resolve beneficiary disputes.3
Young children
No one likes to think about the possibility, but those who are guardians or carers of young children or dependants who are minors have a responsibility to plan for any type of unexpected event. If you have young children or dependants, you'll need to have a plan for taking care of them in the event that the unthinkable happens.
A thorough estate plan not only ensures that they are taken care of, but also that they are taken care of in the way that you'd like. Your estate plan can name guardians and specify conditions for the child's care and upbringing.3
Smart tax and inheritance planning
Tax planning is an integral part of any comprehensive estate plan. A well-designed estate plan should facilitate the seamless transition of asset ownership, so that your beneficiaries pay as little tax as possible. While there's no inheritance tax in Australia, other issues such as capital gains tax and how superannuation death benefits are taxed for dependants could potentially impact your beneficiaries.4 5
Family disputes
A clear estate plan reduces the risk of family disputes. With an unambiguous, legally valid will, your beneficiaries or other persons will be less likely and less able to challenge asset distribution provisions.3 Whether it's in the event of your death or because you've become mentally incapacitated, these family disputes are less likely to happen with a thorough estate plan.3
Illness and care
Your estate plan can include an advanced care directive that outlines how you want to be taken care of during illness in the event you are mentally incapacitated and unable to make decisions about this. You can also use an advanced care directive to nominate decision makers who will make care decisions when you are sick or incapacitated6 as well as other documents such as Enduring Guardianship.
The importance of appointing a power of attorney
Appointing an attorney is a way of specifying who you want to have legal authority to take care of your financial and/or health affairs on your behalf in specified circumstances. There are different appointments that can be made:
General: A general power of attorney gives the donee the power to make legal and financial decisions. This can be for a fixed period of time or it can be ongoing. If you lose the capacity to make decisions yourself, the appointment becomes invalid.2 This type of power of attorney is often utilised when a person is travelling for an extended period of time or even when you simply want to outsource the management of your financial affairs.7
Enduring: An enduring power of attorney is when you appoint someone to make financial and legal decisions for you. You can instruct that the power begins at a certain time or event or even immediately. Unlike a general power of attorney, an enduring power of attorney will remain in force even in the event that you lose the capacity to make decisions yourself.2
Medical: A medical power of attorney or enduring guardianship gives the appointee the power to make medical decisions on your behalf if you no longer have the capacity to do so yourself.2
Benefits
The key benefit of appointing a power of attorney is that you have someone you trust take care of your affairs for you in good health in the case of a general power of attorney, and should you become mentally incapacitated in the case of an enduring power of attorney. Your appointed power of attorney can then make major decisions relating to your financial and legal affairs.
Having an up-to-date estate plan in place is an important consideration for all Australians, regardless of your age or wealth.
6 Mar 2017