5 things you should know about podcasts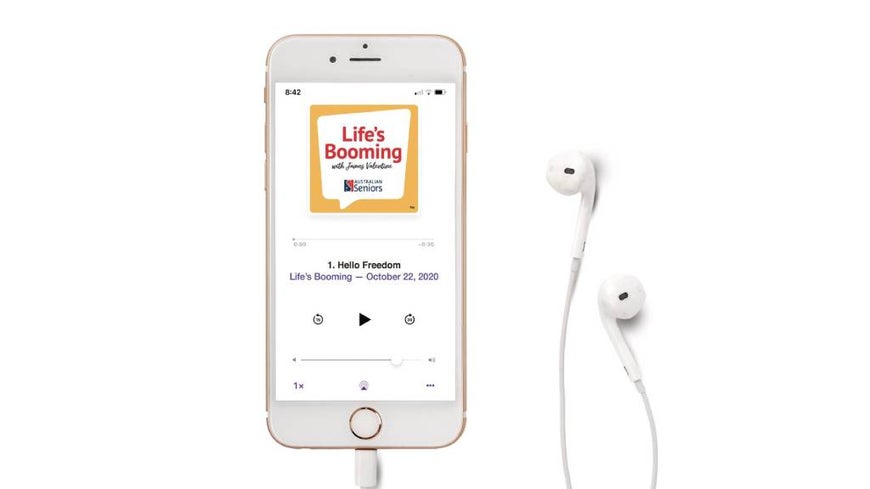 Australia is one of the world leaders in the uptake of listening to podcasts. Research by Edison shows that 75% of over 55s are aware of podcasts, and that 14% – and rising – listen to a podcast at least once a month.
So if you're not already hooked, what's in it for you? Here is what you need to know to make sense of it all.
What is a podcast?
It is a bit like a half-hour radio show (though it can be any length, and is usually on one topic), but it's pre-recorded so you can listen whenever it suits you. Essentially, a podcast is a digital audio file made available on the internet. It's designed for downloading to your computer or your mobile device, usually available as a series. New instalments of a podcast series can be received by subscribers to that podcast automatically.
How do I start listening?
Internet access is essential, and most people listen on smartphones and tablets. If you have an iPhone or iPad, go to the Apple Podcasts app that should already be installed.
For Android devices, find podcasts on the Google Play Music app (free to download if it's not pre-installed). Other popular podcast platform apps include Spotify, iHeartRadio, Stitcher, Overcast and Podbean.
Many podcasts can be listened to directly from a website or page on a website, and many podcast shows have their own websites, where listeners can listen to pre-recorded content any time. Some websites might have additional information such as ways to contact the host/s, ask questions, and even purchase products that the podcasts might be talking about.
How do I find a good show?
Click on categories that interest you – such as history, news, science, or true crime, which often appears on recommended lists for the over 50s audience.
Once you find a show, all you need to do is click play.
You can begin by searching for topics that interest you, and most podcast providers have curated lists available such as 'Top Shows' or 'New & Noteworthy'. Many will also suggest new content to you, based on what you have already listened to. This is done via an algorithm, much like Facebook, Netflix or other downloading and streaming services.
Most podcasts are free, but as a trade-off, many will have a few ads. Most apps have a 'heart' or 'following' button, so you can keep a record of shows you'd like to listen to. If you subscribe to a podcast, you will get an alert when a new episode is ready for you.
Many of your favourite celebrities, TV and radio hosts might even host their own podcast, for example, comedians Dave O'Neil and Kitty Flanagan have a podcast where they eat and review different kinds of junk foods, and Jimmy Barnes has a podcast where he catches up with other musicians and finds out their stories.
There seem to be so many places to find podcasts. What are they all about?
Google Play – This platform is available to all Android devices for free
Apple Podcasts – This platform is available to all users of Apple products for free
Spotify – This platform is a subscription-based service, however there is also a free option with the inclusion of advertising messages
What are some good places to find podcasts I'll like?
Check out the following websites for reviews and chart lists:
Troubleshooting podcast problems
There are many websites online that can help you if you get into some trouble when trying to download, subscribe or listen to a podcast. Sqaurespace has a comprehensive article on common podcasting problems, or head to the support page for Apple or Podbean, for example.
Listening to podcasts can be a great way to expand your knowledge on a particular topic, learn something completely new, or simply a way to laugh or relax. Have a look at the links above and start exploring the world of podcasts!
Welcome to a podcast made for you by Australian Seniors!
Life's Booming: The Grey Nomads focuses on the over 50s touring Australia by caravan. Hosted by James Valentine, one of the ABC's most-loved hosts, this podcast allows you to meet the people who have hit the road and find out what inspired them to head off, where they've been and where they're going next. Plus, you can discover how you can make life on the road work for you.
19 Oct 2020