10 must-see attractions for seniors visiting Melbourne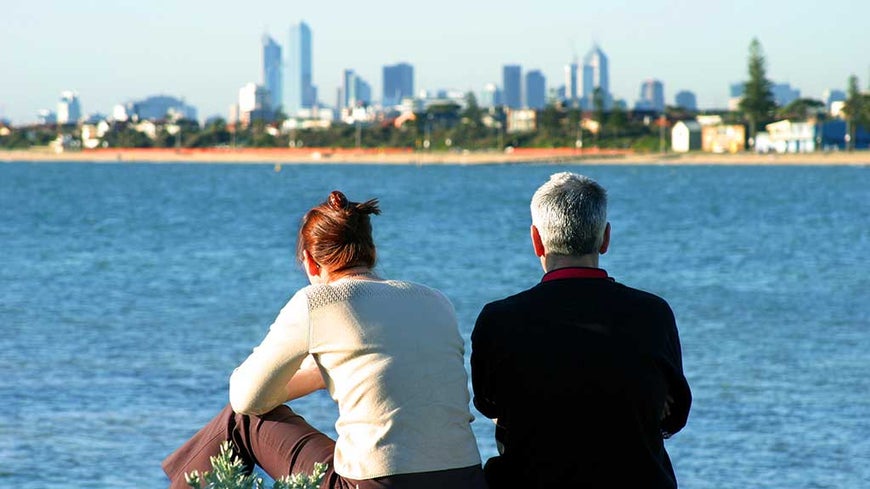 Melbourne is one of the world's most liveable cities and also one of Australia's most visited areas. Tourists, both domestic and international, drop in to lap up the city's unique culture and atmosphere, showing the city's widespread and diverse popularity.
With all the sporting and entertainment events Melbourne plays host to, the city is often seen as being one for the young, but that's not the whole truth! Melbourne is a true playground for seniors as well – it offers a wide range of different events and entertainment that people of all ages can find enjoyable and relatable. The city also has a robust public transport network that makes everywhere easy to reach.
The best food and coffee in Australia
One of the most popular things to do in Melbourne is take a turn into the back streets, looking for the tiny cafes and restaurants tucked away where you would least expect to see them. Melbourne is famous for having some of the best coffees and meals in Australia, and 'discovering' them is one of the real joys that comes with exploring the city. From Vue de Monde in Central Melbourne, which recently won the 2017 Australian Good Food and Travel Guide Reader's Choice Award for Fine Dining1, to Second Home in Eltham, voted Melbourne's Best Cafe Time Out Awards 2017, there's plenty of fancy and casual fare worth travelling for in Melbourne.
The shopping
There is shopping for all ages in Melbourne, with famous shopping locations such as Melbourne Central and Bourke St. Mall offering plenty of buying opportunities for people from all walks of life. For something a little more vibrant, there's also the Queen Victoria Market, which is located on the corner of Elizabeth and Victoria streets. The market is best visited on a Friday (6am–4pm), Saturday (6am–3pm) or Sunday (9am–4pm). Melbourne is a truly cosmopolitan city, and in the Queen Victoria Market you'll find a true bazaar with a rich mix of ethnicities and cultures, and a massive range of foods, drinks, and treasures as a result.
Phillip Island
Phillip Island is an easy trip from Melbourne and one of the best places in Australia to experience native wildlife in their habitat. Most famous for its penguin parade, you'll also see wallabies, emus, and other fascinating creatures unique to Australia. Phillip Island also has a Koala Centre, which is a must-see for fans of Australia's most adorable bear (it's not a bear, we know, but it's as cute as one).
A drive on the Great Ocean Road
Though it's easy to get to Melbourne by plane, a lot of people opt to drive, because it's an excuse to cruise along one of Australia's most spectacular roads. Rest stops and places to stretch the legs and take gorgeous photographs are in plentiful supply for people who want to drive themselves. There are plenty of chartered buses and van services that will allow you to do day trips to areas within reach of the city.
For something more serene
The Royal Botanic Gardens in Melbourne are located close to the city centre, and are one of the most beautiful gardens in Australia. 2 They're also famous for their sculptures of famous people and figures, which have description plaques and are not warded off from the community, meaning you're allowed to study them up close and even touch them.
Learn about the origins of white settlement in Australia
If you're interested in history, Melbourne is a gold mine of museums and galleries. One of the finest of all, however, is Cook's Cottage. 3 Located in Fitzroy Gardens, Cook's Cottage is the oldest building in Australia and has been standing since 1755. It operates as a museum with a self-guided tour available in English, Cantonese, Mandarin, Italian, Spanish, Russian, Thai, Indonesian, Japanese, German, French, and Korean. There you'll learn about Cook himself and the voyages he undertook. Adding to the fun of the place are teams of volunteers dressed in the livery of the era.
For sporting history
With Melbourne home to the most popular sport in Australia, AFL, you can bet the sporting history in this state is vast and entertaining, having to live up to Melbournians' obsession with sport. At the Melbourne Cricket Ground is the National Sports Museum, which celebrates the long and proud tradition Australia has had through its history with sport. It features:
Australian Gallery of Sport and Olympic Museum
Sport Australia Hall of Fame
Australian Cricket Hall of Fame
Australian Football Hall of Fame
Thoroughbred Racing Gallery
Melbourne Cricket Club Museum
An interactive gallery called Game On!
The chocoholic tour
This should come as no surprise, but Melbourne is also the city to visit for chocoholics. There are a number of walking tours that will take you to the city's premier chocolatiers where you can enjoy tastings and discover the history and heritage of chocolate production in the city. What's more, these tours will suit every chocolate taste bud. If dark chocolate is your thing, there's a tour for that. If you're looking for something sweeter, you can go on a milk chocolate tour instead. There's even a wine-and-chocolate tour for people who like to mix the good things in life together.
Wine tours are great, too
Melbourne has one of the best wine-growing regions in Australia with the Yarra Valley and Mornington Peninsula. There are plenty of tours that will take you there or you can hire a car and visit the region yourself – it's an easy day trip to make. Once there, you'll discover vineyard after vineyard, each with its own tasting rooms and superb cafes or restaurants with the level of food quality you can only find in Melbourne.
Catch a show at The Regent Theatre
One of the finest theatres in Australia, the Regent, can host just shy of 2,200 guests. This is the place to go when Melbourne is putting on a performance of The Lion King or The Sound of Music, or playing host to the Melbourne Comedy Festival, opera, or the occasional ballet. It's a glamorous, old-style theatre filled with colour and heritage, and located right in the heart of Melbourne.
With everything easily accessible, and delicious food and great shopping at your fingertips, it's no surprise so many Australians fall in love with this exciting destination. Be sure to experience the sites and flavours featured in this list next time you visit Melbourne.
3 Jan 2018