Research tips for senior Australians planning a holiday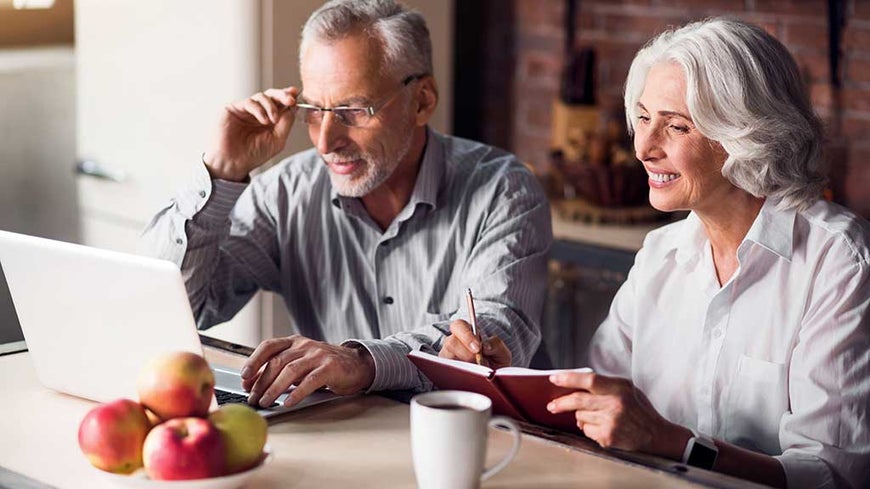 Australians love travelling, especially in their later years when work and family responsibilities can start to ease. Travelling is no longer an indulgence; you've spent years working so retirement is your time to see the world and relax.
According to the Seniors Abroad travel survey, three quarters of older Australians travel at least once a year. Financially speaking, this generally equates to just over $6,400 per holiday. If you compare this to millennials who are only spending $3,380 per year, you can see older Australians really do value their time away.
If you find you are spending hours planning your next holiday, then you're not alone. The survey also suggests people aged 50 years and over spend 27 hours researching and planning before making final decisions. While the online revolution has made it easier to find potential holiday destinations, it can also make it harder to choose.
So, here's a handy trip guide to help you plan your next holiday. And if you're after more advice for the perfect holiday, download our free 50 travel tips for Seniors eBook.
Find the holiday you want to go on
Many retired Australians are adopting the mantra of 'You Only Live Once' (known as YOLO). For many travellers, it's not enough just to see the key tourist sights and stay in trending hotels. Rather, it's about immersing yourself in the culture, traditions and cuisine of your destination. In fact, according to the Seniors Abroad survey, one third of older travellers are hoping to experience foreign destinations like a local.
With this in mind, do your research into tours or experiences that can provide this, such as a tour that specialises in visiting hilltop villages such as Gruyere in Switzerland,1 or a tour that allows you to sample traditional food from local producers and chefs. Perhaps a home stay would broaden your horizons? Think about what gets you excited – and seek these experiences out.
When doing your research, consider what's most important for your holiday and plan the trip you want, rather than what people may expect of you; if you feel like learning a new skill, meeting new people or trying a new activity – then go for it!
Create a budget
Once you've chosen your destination and mapped out some of your options, it's time to consider costs. While the Seniors Abroad travel survey shows older Australians are spending more than millennials on travel, that doesn't mean you have to go "all out" at all times.
Work out how much flights will cost and then look at accommodation. Once you have the two biggest expenses sorted, look at everything else you'll need. This includes travel insurance, tours, spending money, anything you'll need to purchase prior to going, as well as any incidentals, and an emergency fund. If you have these essential things covered, it will make for a much more relaxing holiday.2
When looking at flights, shop around. While you may favour a particular airline, there may be a much cheaper fare going on a different one. Surveys show that most older Australians choose to travel in economy for the majority of their holidays; with 65 per cent of respondents to the Seniors Abroad survey saying they save on flights to spend elsewhere.
Share your trip information where necessary
Before you travel anywhere, register with Smartraveller. This will ensure that if anything goes wrong, the Australian Department of Foreign Affairs knows how to get in touch with you and/or your emergency contacts. This is particularly important if you're going somewhere that is prone to natural disasters. The Smartraveller website also lists updated rules and warnings for countries Australians should be wary of travelling to for a variety of reasons.
It's also important to leave your travel details with someone back home such as a close friend or a family member. This should include your flight and accommodation details, any tours you've pre-planned and all copies of your identification documents (including your passport). If you misplace anything or need help in an emergency, people back home will be able to help. There are many websites online that allow you to send this information in simple, secure and downloadable formats, to your loved ones.
Don't forget the details
When it comes to accommodation and activities, there are a multitude of options available. It's no longer essential to stay in a hotel in the middle of a busy city to enjoy the area. Consider staying somewhere semi-central with good transport options and get off the beaten track.
When booking your accommodation, whether it's an apartment, a hotel or an Airbnb, consider everything you need and everything you want. For example, do you want or need kitchen or laundry facilities? How close do you want to be to restaurants and cafes? Can you walk upstairs, or do you need a lift?
Additionally, when looking at pre-planned tours to fill your days, plan ones that suit your needs. For example, if you are adventurous, but you don't want to wind up exhausted at the end of every day, book a couple of half-day tours. If you tend to get carsick or seasick, a walking or hiking tour may be best.
Importantly, don't just stick to the tourist tracks. While it's fun to visit museums and art galleries, there's also plenty of things to experience if you just wander around the local neighbourhoods no matter what city or country you're in. Plus, you're much more likely to get authentic cuisine (at a much more reasonable price) if you stick to the local areas.
Consider getting travel insurance
If you're heading overseas, you may wish to consider travel insurance, in case you get sick or injured and need medical care, your travel plans get delayed or cancelled unexpectedly, or your valuable items get stolen or damaged.
If you have a pre-existing medical condition, and you'd like to see if this can be covered, you'll need to apply for this when purchasing your policy, otherwise, you may not be covered for any medical expenses related to the pre-existing condition.
According to Smartraveller, more than 1,000 Australians die overseas every year, and it can cost over $20,000 to bring their remains home, so ensure this is covered in your travel insurance policy if important to your family, culture or religion.
Choose Australian Seniors
No matter how you travel or where you go, travel for older Australians is changing. While you may spend hours researching and planning, all that work means you'll be able to relax and enjoy everything the destination has to offer.
1 Mar 2018