10 books to make you laugh, cry and rejoice getting older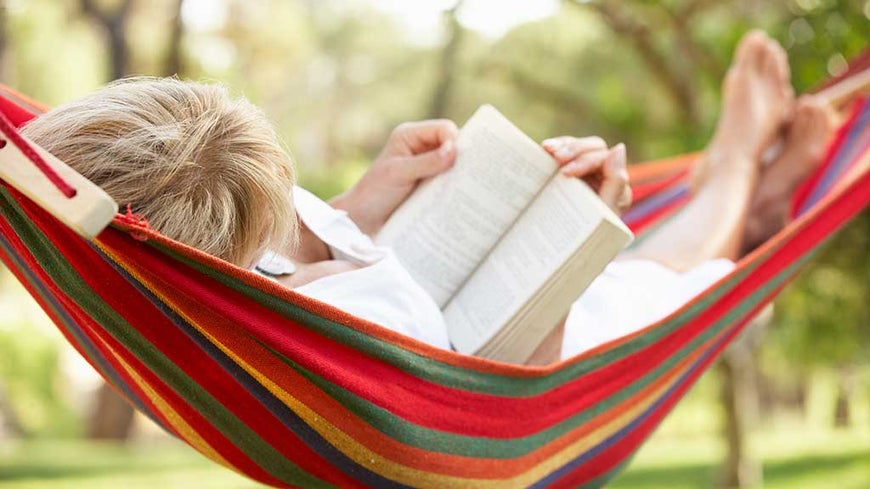 Reading a great book while you're travelling is one of life's great pleasures. In a world of omnipresent screens, it's easy to forget about the simple pleasure of curling up with a good book. It's also easy to forget about the massive benefits that come with reading that book.
Science tells us that reading works wonders for our health. Stressed out? Reading can chill you out. Scared you're losing your marbles? Reading can keep your brain sharp. Worried about Alzheimer's disease? Reading can reduce the risk and effect. Not sleeping well? Reading can help you sleep better. Reading can be a terrific hobby to spend more time with, once you have given up the nine-to-five lifestyle!
So what are you waiting for? Pick up a book today and start reducing the effects of ageing (you may even enjoy the process!).
1. All Passion Spent
Author: Vita Sackville-West
All Passion Spent is a literary fiction novel published in 1931 and is one of Vita Sackville-West's most popular works. In 1986, it was adapted into a 3 episode BBC television series.
Written in three parts, All Passion Spent is a charming and gentle novel that addresses how women control their own lives. The central character Lady Slane, is an 88-year old woman who, towards the end of her life, is emancipated by her husband's death. This leads her to new discoveries and realisations about her life.
2. Deaf Sentence
Author: David Lodge
Desmond Bates is a retired linguistics professor at a Midlands University and is finding that his later life is becoming stagnant and problematic. His wife is nipped, tucked and surgically reinvented, his father's health is in rapid decline, and a glamorous yet sinister American postgrad named Alex wants him to supervise her thesis about suicide notes.
Witty, original and absorbing, Deaf Sentence is a funny and moving account of coming to terms with deafness, ageing and mortality, as well as the comedy and tragedy of human lives.
3. Reinventing Myself
Author: Marlys Marshall Styne
Marlys Marshall Styne was retired seven years, widowed six years, childless, 73-years-old, and depressed. To find contentment, she began writing a series of personal essays which you can now read in Reinventing Myself. As you read, learn how to write your own essay that will make your quest to retired happiness that much easier.
4. Seize the Day
Author: Saul Bellow
Seize the Day is for people wanting to read a serious book that focuses on life's drama. A classic novel published in 1956, it inspires readers to look back on their life with gratitude and to make the most of every day that is still to come.
5. The 100-Year-Old Man Who Climbed Out the Window and Disappeared
Author: Jonas Jonasson
Written by Swedish novelist Jonas Jonasson, The Hundred-Year-Old Man Who Climbed Out the Window and Disappeared is a laugh-aloud read about a man soon to celebrate his 100th birthday. His retirement home has planned him a party, but despite Allan being alert and agile for his age, he's not interested. Instead, he steps out of the window to find that an adventure (complete with drug dealers and police) awaits. As his adventure is told, so too is his life story – moments such as dinner with future President Harry S. Truman, hitchhiking with Winston Churchill, and travelling on a riverboat with the wife of Mao Zedong.
6. Park Ridge: A Senior Centre Murder
Author: Cheryl Hagedorn
A group of long-term pinochle players dare each other to commit murder to get rid of the pushy active members of the Park Ridge Senior Centre. Four murders and five different methods (including a banana) make a confusing recipe for Detective Stanley Nevins, whose mother also lives at the centre. Instead of "whodunit" this is a "whydunit" tale that successfully combines murders with romance and senior citizens with a suburban cowboy detective.
7. The Coroner's Lunch
Author: Colin Cotterill
The year is 1976 and Dr. Siri Paiboun, a 72-year-old medical doctor has been unwillingly appointed the national coroner of newly-socialist Laos. Confronted by the poisoning of an important official's wife and the sudden appearance of three bodies that may create an international incident between Laos and Vietnam, he must learn to keep his cool as he sets about on an exciting "whodunit" adventure. The Coroner's Lunch is an embarrassment of riches that sets off a darkly funny and exotic series, taking crime into the thick of political intrigue.
8. Curveball: The Year I Lost My Grip
Author: Jordan Sonnenblick
There's nothing All Star pitcher Peter Friedman loves more than baseball, so when a pitching accident ruins his arm, he's obviously devastated. To make matters worse, there's something going on with Pete's grandpa – he's acting weird and keeps forgetting important things. As hilarious as it is tragic, Jordan Sonnenblick shows that even when our world changes dramatically, you can still find beauty in it and you can always embrace the change.
9. Chicken Soup for the Golden Soul
Author: series of contributors
This wonderful collection of loving insights and wisdom all centred on the prime of life. Divided into chapters such as letting go, giving, learning, overcoming obstacles, perspective, believing, living your dream, reminiscing, and ageless wisdom, this book celebrates the myriad joy that comes from having lived.
10. The Unlikely Pilgrimage of Harold Fry
Author: Rachel Joyce
A great book for seniors, The Unlikely Pilgrimage of Harold Fry tells the tale of a retired man on a quest to deliver a letter to his long-lost friend Queenie. It's a book about adventure, love, hope, transformation, and finding humour in old age. This national bestseller is a book almost all seniors can relate to.
Reading on holiday is such a great way to relax, but wherever you decide to go, it pays to stay safe. Make sure your travel insurance is up to date before you leave.
19 May 2016