The real cost of a pandemic puppy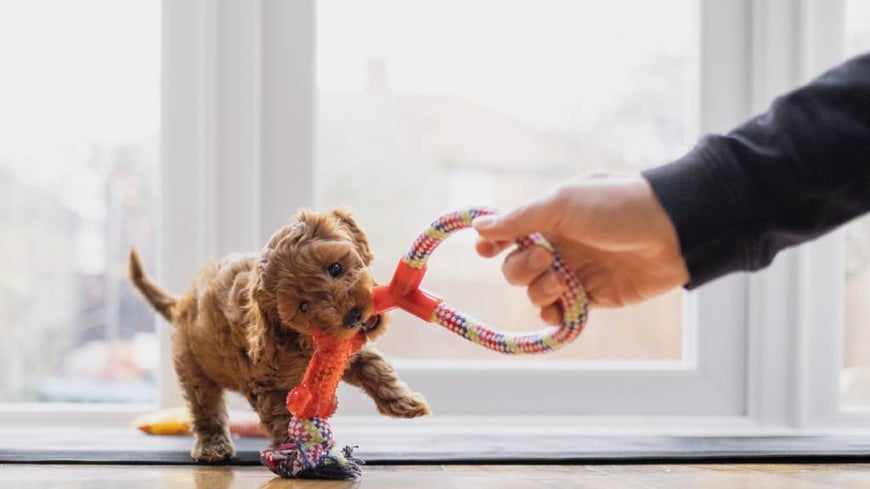 Written by Shonagh Walker for Australian Seniors.
The philosophy of supply and demand is pretty simple. People stuck at home in lockdown have been wanting, in increasing numbers, to welcome a dog into their lives. And as a consequence, prices have soared. Online advertising shows prices peaked at between $3,000 and $10,000 per puppy, with breeds such as cavoodles (a Cavalier King Charles spaniel/poodle mix) and other poodle crosses, miniature dachshunds and French bulldogs proving the most popular. Costs of some puppies went up to four times higher than pre-COVID-19.
The popularity of so-called 'pandemic puppies' is not surprising. "Pets are wonderful companions and there are numerous physical and mental health benefits associated with pet ownership," says RSPCA NSW media adviser Julie Greksa. "We've seen here that people who have adopted pets during the pandemic were actually already considering a pet. The extra time at home presented the perfect opportunity to welcome a new pet into the family."
Elyshia Collis, from WOOF Dog Rescue in Sydney, agrees. "I don't think COVID-19 is the single factor people are getting pets, although it certainly is a major factor. I believe people have been thinking about getting a pet for some time and now that they can't travel, or they are working from home, they have realised it is the right time."
Coming to the rescue
If high prices for a puppy from breeders are a deterrent, rescue homes emphasise they still have plenty of dogs to adopt – contrary to some news stories and social media posts. "The rumours flying around that the pounds are empty due to COVID adoptions, are exactly that – rumours," says Elyshia. "It's just that adopting a rescue pet isn't as simple as walking in and saying, 'I'll take that one'."
The likelihood is the shelter is brimming with pets that need homes – just not purebred or 'designer' puppies. "No rescue organisation will hand over a pet without rigorous health and personality checks. Often the animal will remain in foster care for many months before it is ready for adoption."
Julie agrees. "At this time, RSPCA NSW shelters across the state are at capacity. Our in-care animals are often undergoing vet treatment or are too young to be adopted. Only a small percentage of our animals in care are adoption-ready."
It seems you are still able to get an affordable dog, even in the pandemic – but you might have to be prepared to play the waiting game.
Beware the dark side
Soaring puppy prices have led to other unwelcome rises – in fraud, puppy farms, and 'backyard' (inexperienced) breeders. Many Australians have handed over substantial amounts to strangers online, without even meeting the dog – and then have never seen their money (or the advertised puppy) again.
Others have unknowingly bought a dog that has been raised on a puppy farm (an intensive breeding facility). Debra Tranter, founder of Oscar's Law, which aims to outlaw such farms, calls this a "cruel and inhumane industry", where hundreds of dogs can be legally bred in "squalid conditions".
Then there's inexperienced people who have started breeding puppies for cash, who may have insufficient knowledge of genetics and welfare.
Considering buying a puppy?
Here's Debra's guide, and a few things you should do to help ensure the safety of you and your potential pet.
#1: Meet first
Never purchase a pet without meeting it first. Many online sites promising to ship a puppy to your home are operated by fraudsters often based abroad.
#2: Beware of those who want to meet only in public
If your 'breeder' asks you to meet you in a public place, such as McDonald's or a highway, there might be a chance that they are puppy farmers. If they won't let you see their residence and see where the puppy has been living and interacting with its mother and siblings, then the red flags should be flying.
#3: Have your premises checked
A registered and ethical breeder or rescue group will ask to inspect your premises to ensure that the dog is going to be living in a suitable environment and will ask you a lot of questions about your lifestyle.
#4: Make sure the breeder is registered
Look for a breeder that is registered with the Australian National Kennel Council [purebred dogs only – cross-bred dog breeders are not covered].
At Australian Seniors, we're committed to rewarding good pet owners.
Seniors Pet Insurance can help you keep up with the mischief your pet gets into without worrying about expensive vet bills.
30 Aug 2021