Rescued greyhound gets adopted into loving forever home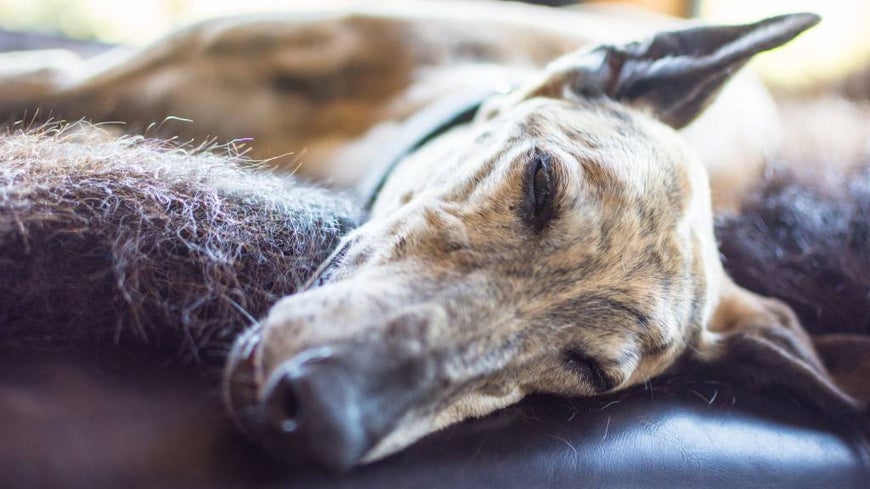 Written by Ingrid Laurence, photography by Nick Cubbin.
Jeremy Richman first laid eyes on the "most marvelous addition to our lives" on a charity website. "I was on the Greyhound Rescue adoption page and there was LB," says Jeremy of his beloved dog, now aged five. "I thought, she's absolutely gorgeous. It was love at first sight. "I saw her on the Greyhound Rescue website, fell in love with the dog, and said I want to adopt her," he says.
Jeremy, 62, who lives on Sydney's Northern Beaches with his wife Ariella, brought LB — short for Long Black — home in 2018. As well as running a small marketing communications branding agency, he has a long involvement in animal welfare issues, which inspired his decision to adopt a greyhound.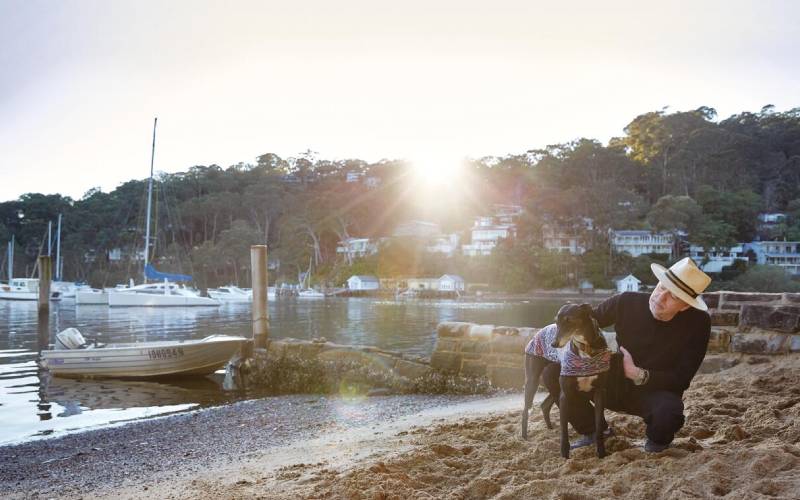 The changes to the Australian greyhound racing industry
Every year, Australian greyhound racing generates billions of dollars in bets, and millions in prize money, and thousands of dogs are bred to meet the demand. But according to the NSW Special Commission of Inquiry into the Greyhound Racing Industry in 2016, 50% to 70% of greyhounds bred for commercial betting over a 12-year period were put down after being deemed unsuitable as racing dogs. This and other findings led to the NSW government announcing it was banning greyhound racing in the state.
While the ban was quickly overturned, there have been some welfare reforms. The industry's peak national body, Greyhounds Australasia, says it's increased investment in greyhound adoption and rehoming programs, and promoting the breed outside racing.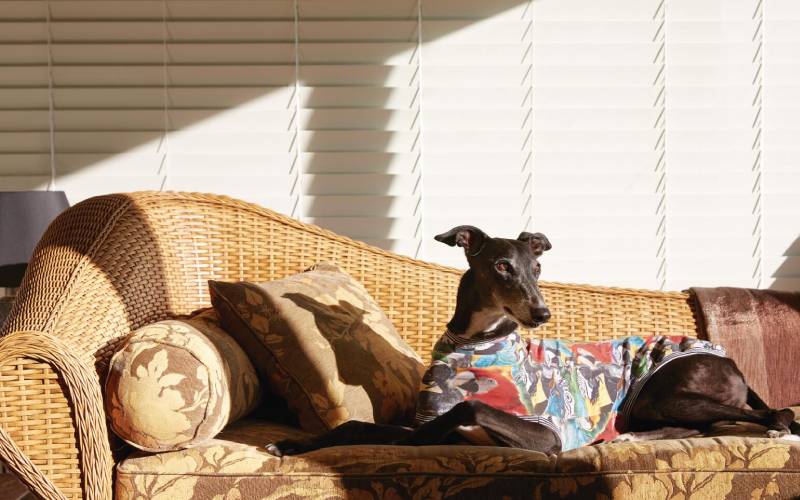 Greyhounds can make wonderful pets
Jeremy is one of many now discovering the charms of greyhounds as pets. "She's so magnificent; she's changed our life enormously for the better. She arrived about a month before my daughter was getting married and we were hosting an event of close to 20 people. We were worried about LB, being a timid dog, so we made plans to put her in a room downstairs. But there was simply no need — she walked around, introduced herself to everybody, wagging her tail."
A misconception about greyhounds is that they need vigorous exercise. After all, they're one of the fastest land animals on Earth, with a top speed of 70km/h, but the truth is they love nothing more than lounging on the sofa.
"LB sleeps for 35 hours a day," jokes Jeremy [in reality greyhounds do sleep a lot, around 18 hours per day]. "Greyhounds don't need to go on big runs. LB is perfectly content with a 15-minute mosey around the neighbourhood." Some greyhounds enjoy "zoomies" — a couple of very speedy turns around the park or backyard. "But if an owner needs a dog that is a bit slower, a bit older, or doesn't like zoomies, the rescue home will find them one."
The environment for greyhounds
Greyhounds don't need a big backyard and are quite suited to apartment living. They're mostly gentle and quiet, and love being indoors. They generally can't sit — it's an uncomfortable position for them — so they're often found sprawled out on comfy furniture. "If you live in an apartment and only have one sofa, you'll be sitting on the floor," laughs Jeremy.
In common with other rescue dogs, greyhounds have often had a bad start to life. "A lot of the time, we don't know anything about their background," he says. The dogs are brought to the rescue home by their owners or trainers when no longer an asset to racing, typically at four years old.
Many have never been inside a house, spending almost all their time in outdoor kennels, and may never have met another dog other than a greyhound. "They've just been a commodity, completely deprived of stimulation other than racing," says Jeremy.
Greyhounds are adopted via the racing industry's Greyhounds As Pets (GAP) programs, the RSPCA and other animal shelters, and about a dozen independent greyhound rehoming agencies across Australia, like Greyhound Rescue. A good rescue home will help rehabilitate the greyhounds, teaching them how to interact as pets.
Greyhounds are generally gentle and loving companions
Although almost unfailingly gentle with humans, the breed has a high instinctive prey drive, so a rescue home will carefully assess whether each greyhound is suitable for housing with cats and other pets. They can also advise on local requirements regarding muzzles — some jurisdictions in Australia still require greyhounds to be muzzled in public.
A greyhound rehabilitated as a pet is a wonderful sight, Jeremy says. "The animals are so curious to meet people, sniffing, the experience, the joy of going to a street they haven't been to before. Greyhounds have clearly been through a very rough time, some have scars, but they adapt so easily to being a family pet."
Jeremy takes LB everywhere — to shops, the pub, the beach cafe, on car drives. "The magnificent thing about owning a greyhound is how many people you get to meet," he says. "She has an expectation that everyone will want to pat her and tell her how beautiful she is."
18 Mar 2021