Putting your pet in your will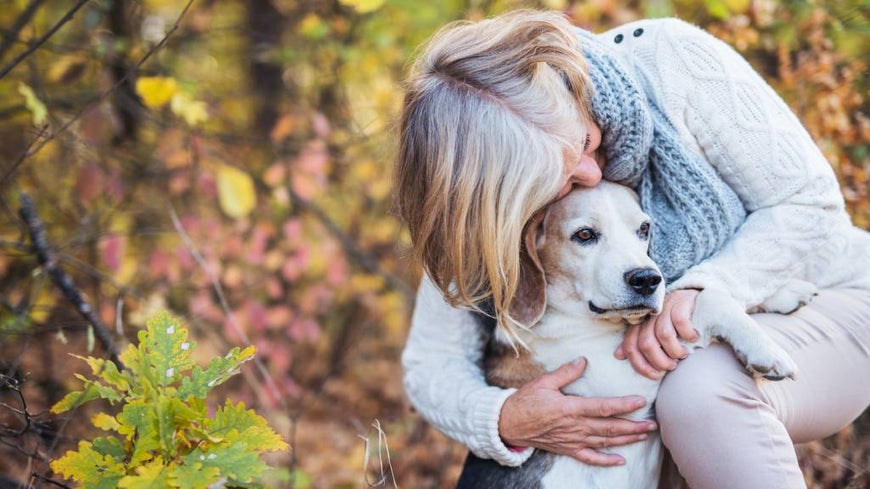 Written by Monique Butterworth for Australian Seniors.
With the kind of unconditional love our pets often bestow upon us, it is understandable we consider them very much members of the family. Just like our loved ones, it is not unusual to worry about what might happen to our pets if we pass before they do.
According to national research by Animal Medicines Australia, there are almost 29 million pets in Australia. That's three in five Australian households – or 5.9 million in total – that have a pet. The Australian Seniors Inheritance and Retirement survey reveals that one in 10 seniors intend to leave some portion of their estate to their pets. Additionally, more than half of the pet owners surveyed say they have a plan in place detailing who would take care of their pets if they were to die before their animals. However, about half of these acknowledge it is only a vague plan.
What does the law say about pets in wills?
So what is the legal position? Under Australian law, animals are considered property, a part of our belongings. Pets cannot hold title to property and cannot be gifted money as a beneficiary, but owners can state in their wills how their pet is to be cared for, or who they would like to gift their pet to.
Amelia Nagel, an associate in the Wills and Estates Litigation team at Maurice Blackburn Lawyers, says it is becoming more common for people to gift their pets in their will, to ensure they are cared for once they pass away. "Our clients choose to either gift their pet to a specific person or set up an animal legacy welfare program in their will," says Amelia. "We recommend our clients consider the age of their pet and the impact this may have on rehousing them. As sad as it may sound, some people prefer their pet be euthanised if they die before them, because at such an age, rehousing could be too difficult."
Whether or not the person you have gifted your pet to is able to look after them – or wants them – needs to be considered. Leaving an animal to someone without telling them first could be a potential disaster.
Make a plan for your pet for when you pass away
"We recommend our clients discuss their proposed wishes with the person they intend to leave their pet to. This is to ensure the proposed beneficiary is happy to take care of the animal, given it's a huge responsibility to adopt a pet," says Amelia. "The proposed beneficiary does not have to accept ownership of the pet. They can decline it, which can be problematic."
The reverse is also true, and in some cases a much-loved pet can be prized by more than one family member. When Phil Koch's mother Rita passed away, closely followed by his parents' bichon frise Winkle, Phil was determined to bring some love and light back into his dad Allan's life. Enter Greta, a mink-coloured Maltese-Shih tzu puppy rescued from the RSPCA in 2003.
"Dad was adamant he didn't want a dog but of course, he fell in love with Greta. The whole family did too," says Phil. "Sadly, we lost Dad too, around three years later in 2006."
With no pet-care plans for Greta in place, Phil was not only mourning the loss of his father but dealing with a situation with his father's girlfriend, who was also keen to take care of the dog. "Greta was such a nice link to Dad, I wanted her to live with me. In hindsight, things would've been far easier if Dad had made it clear Greta was to live with me," says Phil, 52.
Greta, now 18, did go on to live with Phil, and has enjoyed a great life – firstly as a Bondi Beach local dog-identity, followed by a more laid-back existence in her senior years on the NSW Central Coast. "Greta has always loved the beach. Her eyesight is not as good as it could be and she's a bit wobbly on her feet but she still comes everywhere with me," says Phil. "She is such a good dog. I love her to bits."
Other options to ensure your pet is looked after
As well as formally nominating a family member or friend to take care of your pet, another option might be to create a trust for the animal in your will. The money in the trust can be used to pay for their care and day-to-day expenses in accordance with the wishes you leave. You will need to nominate a trustee to look after the funds – the executor or someone else. Also consider including a clause to say where the balance of the trust goes when the pet dies.
Another idea, says Amelia, is to consider providing the proposed beneficiary with a sum of money for the pet's future expenses, such as food and medicine. Phil has experienced such an arrangement. "My sister and I also inherited a senior cat called Katie from a family friend 10 years after Dad passed," he explains. "They had made a $5,000 provision for Katie to be taken care of in their will, so that transition was very easy."
Why pet care instructions are crucial
Amelia adds that it is very important to include clear instructions in your will. "If your instructions are unclear or unable to be implemented, it then becomes a problem for your executor," says Amelia. "For example, you could include a clause in your will that says, 'I'd like to gift my dog Rover to my sister Amy'. But what if Amy is no longer able to take care of Rover? You need to try and deal with these scenarios and a further clause may need to be inserted. For example, 'If my sister Amy is unable to care for Rover, I then gift Rover to my brother Leo'.
"We always recommend our clients provide an alternative option as to the care of their pets given there are no guarantees your proposed beneficiary will survive you, or accept the care of your pet," adds Amelia. "If you cannot find a suitable alternative owner for your pet, you may wish to set up a legacy program for your pet as the alternative."
Creating a pet profile to be given to family, friends and included with your will ultimately ensures the best possible care for your pet. "You should also discuss the level of care involved with your pet, such as does the dog require a lot of exercise, a specific diet or medicine?" she adds.
Helen Trussler, manager of the RSPCA NSW Gift in Wills program, agrees. "Write everything down that you possibly can about the animal's welfare such as its breed, age, sex, microchip details, its needs, its wants, its behaviours, what it likes, what it doesn't like, what it eats, where it sleeps, vaccinations, veterinary details and medication," she advises. "It is incredibly helpful – and peace of mind for you – to have such information on your pet prepared."
This is general information only and you should seek professional advice specific to your circumstances.
Peace of mind for you and your pet
If you don't have anyone to take care of your pet, you could consider gifting it to an animal welfare charity, which will then undertake to rehome it and look after its ongoing care. Charities include the RSPCA, via its Home Ever After Program, and the Animal Welfare League's Legacy Program. "We become the legal guardian of that pet," explains the RSPCA's Helen Trussler. "We work with emergency services to ensure we get the animal into shelter as quickly as possible. We use all the information the pet owner has provided in their unique pet profile we have on record to rehome the pet into as close an environment as possible to their previous home."
It is free to enrol pets in Home Ever After, and there is no charge for services, but the RSPCA respectfully asks enrollees to leave a gift to the charity in their will. "You cannot leave money to an animal, but if someone is wanting to leave money for the purpose of looking after the animal, we tend to advise they leave a donation or gift in their will to RSPCA to go towards helping all animals that end up in this situation," says Helen. "It enables us to continue running programs like Home Ever After for animals that come into our care."
Even if you have an agreement with a friend or family member to take on your pet when you pass, their situation can change too. "Enrolling in the program can also be the perfect plan B," says Helen. "Circumstances change. If your planned person can no longer look after your pet, it would be up to the executor of the estate to choose what they decide is in the best interest of the animal. That's where horror stories can occur because we hear many cases of pets given to the wrong people or even let loose. The RSPCA never turns a pet away."
For more details contact your local RSPCA, go to rspca.org.au/contact-us
3 key facts about pets and wills
Words by Amelia Nagel, wills specialist lawyer.
1.Pets are property
As pets are considered personal property, people may dispose of their pet with the remainder of their personal property without even realising. For example, if a general clause such as, "I leave all of my real and personal property to my cousin Jamie" is included in your will, your pet will pass to that person.
2. Consider naming beneficiaries carefully
If you die without leaving a will, your pet will pass to the beneficiary of your estate pursuant to the intestacy laws of your state or territory. This may not be the person you want to look after your pet – or they may not be prepared to take the animal on. Accordingly, if you have specific wishes regarding the ownership of your pet when you pass away, these should be recorded clearly in your will. You might want to seek advice from an estate planning lawyer.
3. Issues arise when dying intestate
If you die without a will (intestate), or without clear pet care instructions in place, and the executor of your estate cannot rehome your pet, they may be forced to euthanise the animal.
23 Jun 2022