A perfect match for pet ownership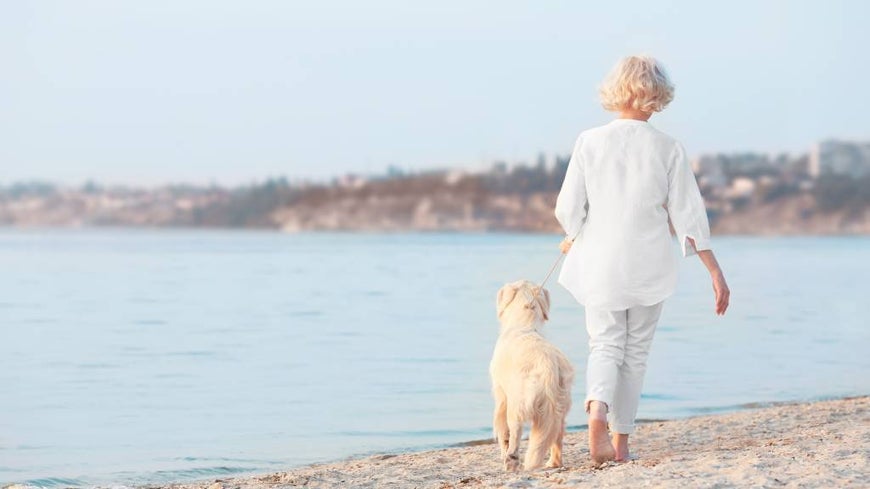 Written by Monique Butterworth for Australian Seniors.
There's nothing quite like the feel-good moment during your dog's enthusiastic greeting or the knowing, gentle rub against legs from your loving cat. Sadly, as we get older, the realities of ageing often play a part in people deciding not to continue owning a pet.
Helen Trussler, RSPCA NSW gifts in wills manager, says she is often approached at her charity's events by older people who believe they can no longer own a pet, despite enjoying their company all their lives.
"The number one concern for older people is worrying what would happen to their pet should something happen to them," says Helen. "That's why the RSPCA NSW Seniors for Seniors and Home Ever After [HEA] programs are a beautiful solution."
Seniors may get a discount for adopting a pet
NSW Seniors Card holders earn a 50% discount if they adopt one of RSPCA's 'senior' animals (dogs and cats aged over eight years), and also gain access to the charity's HEA program, which is a future care plan for pets should something happen to their owner. It's currently only available in NSW; for details go to rspcansw.org.au
"We are very much about keeping pets and people together for as long as possible, but equally, we want people to continue their love for pets and be able to own them later in life," says Helen. "It's easy to forget the challenges of having a puppy or kitten in your house. By adopting a senior pet, you can age gracefully together." There are many benefits to seniors owning pets.
Given the average lifespan of dogs (10-13 years) and cats (12-18 years), getting a puppy or kitten at the age of 65 years or older means there is a chance that pet could outlive you, says Helen. "There are many shelter animals that need a new home. All animals that leave our shelter are de-sexed, and given a thorough veterinarian and behavioural check," she says. "If there are any long-term chronic illnesses or medical issues, you will be very well informed of that."
As well as giving an animal a loving home, there are many benefits in pet ownership for seniors. The University of South Australia's Pets and Older People Project finds that many mature adults discover comfort, company, and meaningfulness in having a pet in their lives.
Pets can offer companionship for those living alone, encourage dog owners to take exercise and make new friends in the dog park, help heart health – studies show blood pressure goes down when a person pats a pet – and bring purpose to life, staving off cognitive decline.
The vet's view
Dr Tim Hopkins, emergency veterinarian at Sydney's Small Animal Specialist Hospital (SASH), says although your time with a senior animal may be shorter, they deserve to have a fantastic twilight period of life.
"The lifespan of animals has increased significantly as veterinary care rapidly catches up with human medical care. From a welfare perspective, it's important senior animals are valued and given great homes," Dr Hopkins says. "From a charitable perspective, it is rewarding and worthwhile. You may not know much about where they've come from, but you can offer so much to a pet later in life."
From a veterinary viewpoint, small dogs are 'senior' when they're six, large dogs when they're five, and cats between eight and 10 years. "These ages are when we start to treat them differently in terms of healthcare," he says. "Taking on a senior pet, for better or worse, you're taking on a package that's unlikely to change too much.
"It's a much easier proposition in terms of trying to fit that animal in with an existing lifestyle," he explains. "The puppy/kitten stage has lots of cuteness, but they also come with the burden of training, energy levels, toileting mistakes, destructive behaviour and noise issues with neighbours."
Health checks for your pet
Some cons with taking on a senior pet include health issues and, in some cases, behavioural concerns. "Older pets are subject to a range of age-related conditions. Some are degenerative conditions such as arthritis, cataracts, loss of hearing, dental disease and weight changes due to hormones as they age," says Dr Hopkins. "The likelihood of more sinister diseases like cancer, kidney and heart disease certainly increase with age."
Like many industries, the cost of veterinary care has increased in recent years. "If you haven't owned a pet for some time, you could discover the options from veterinarians for [pet] patients with chronic conditions may be different. Patients with chronic conditions can now be treated for longer with improved quality of life," he explains.
Recommended breeds
Nominating a preferred breed or species for seniors to adopt is difficult. "It really is a case-by-case basis," he says. "If you can spend time fostering before committing to adoption, you can determine whether or not they're a good fit for you.
"Generally, I would recommend avoiding larger dogs, who could pose a danger for seniors when walking, or any breed described as having high energy. However, even though they are a larger dog, greyhounds are often a good match, because they are very low energy. They require a short walk in the morning and evening and spend most of their time snoozing.
"A fantastic breed for seniors is the cavalier. They generally have wonderful temperaments, are very sweet, affectionate and quite sedate. Like every breed, they have their health concerns but overall, they are my recommendation."
26 Feb 2023