Pet grooming tips for seniors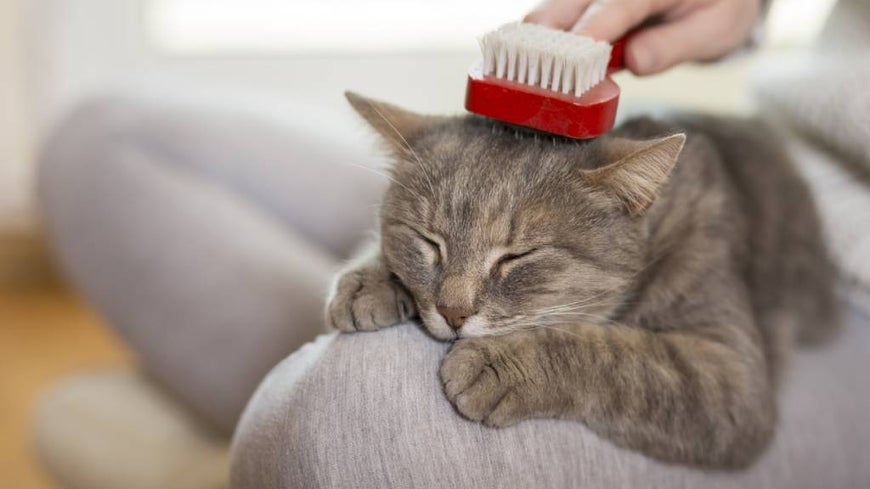 Pets can bring a huge amount of joy, love and companionship – as a whopping 62% of Australians, who are also pet owners, can attest to. However, caring for pets day in, day out comes with plenty of hard work.
As we get older, we might find some pet-care activities get a little harder. If this is the case, there are some great tricks that can help save you time and money – and services that'll come to you to take the pressure off. Read on for some helpful strategies that will ensure you and your pet have many long, happy years together.
How can caring for a pet can keep you healthy?
Pets are great for our mental health, especially as we get older and a bit more isolated, says Dr Leigh Davidson, Director at Your Vet Online. "For many, owning a pet means we have more opportunities to talk to people in the community – whether that's taking them to the vet for a check-up, to the groomer for a shampoo and blow-dry or even just a daily stroll to the park."
The act of looking after a pet can also be good for you in various other ways. "Taking your dog for a daily walk, cleaning out the bird cage or cat litter box – these require movement that keep joints mobile and minds sharp," explains Dr Davidson. "That said, some pets do require more work than others. Common issues we see with older pet owners may be that dogs aren't getting walked enough or cats aren't being groomed adequately."
Essential pet-grooming hacks
If you struggle with the physical aspects of your pet's care, there are tools to help and services in place you can outsource to. Here are some ideas from Dr Davidson:
Get your hands on an easy fur-removing device: "Long-coat pets require regular grooming so that their coat doesn't become matted and create nasty infections," says Dr Davidson. "A good-quality brush can make all the difference. My favourite is the FURminator. This grooming tool is the best on the market and will make your life much easier."
Book a clipping: "If grooming your pet's hair is becoming unmanageable, booking them in for a regular clipping to keep the coat short and manageable is a great idea and will keep your pet cool in summer. In winter, be sure that you provide extra warmth for your pet with a coat and blankets in their basket."
Outsource some of your pet's care: "Caring for our pets can get a bit much at times, and there are always people who love to help with dog walking, grooming or even just popping in a couple of times a week to do a clean-up of the yard or cage and make sure everyone is okay. Ask around the neighbourhood; it's a great job for a teenager!"
Get some expert help: "If your pet needs medications, your local vet should have a list of nurses or other carers who can pop in and assist you with this type of thing."
Building pets into your budget
If you're retired or on a budget, having a pet can be expensive – and as they get older, they can start to have health issues which can exacerbate your financial woes. To keep costs down, Dr Davidson suggests you can try the following:
Buy food and other supplies online: "If you purchase quality pet food and parasite control online, you'll find it's a lot more affordable."
Join a veterinary health plan: "Often, these plans include free or subsidised blood tests, dental treatment and consultations."
Purchase pet insurance: " Consider taking out pet insurance when your pet is young, so that pre-existing conditions are less likely to be present which may not be covered."
Use online vet services: "I have found that more than three quarters of pet problems don't need a trip to the vet and can be handled from home – so using online vet services for veterinary advice can be cheaper, and prescriptions can be organised and sent directly to your pharmacy of choice." says Dr Davidson.
Pets can offer amazing love and companionship, especially as we head towards retirement. But as physical activity becomes a little harder, there are always things you can do to make it easier on yourself and ensure you and your pet look forward to grooming and bath time as much as you used to.
It all begins with having the right strategies in place to ensure your pet is well looked after. Now may be the time to consider pet insurance to ensure your pet will be covered in the case of an accident or illness. Request a call-back to find out more.
Author bio
Dr Leigh Davidson is the founder of Your Vet Online which is a 24 hour online vet advice service for pet owners. Dr Leigh is a veterinarian with 20 years of experience in small animal, equine and farm medicine, pharmaceutical consultancy and business ownership and loves nothing more than helping people learn more about their pets so they can give them the healthiest and happiest life possible.
20 Dec 2019