Why pet insurance is even more important in your senior years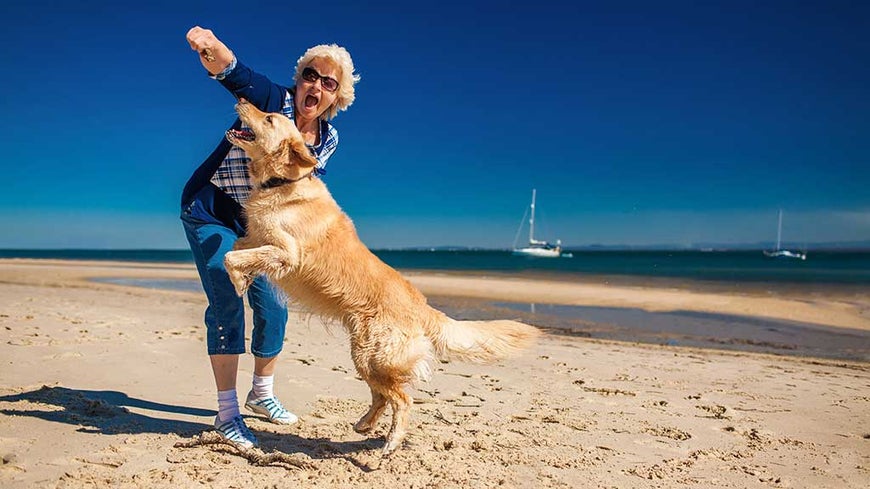 Animals play an important role in many people's lives and can be valued companions as well as being trained for therapeutic roles. Having a pet can affect your quality of life, and this is most true during your early and later years.
Pets and their humans have been sharing a magical bond for centuries, and it's becoming increasingly evident that seniors with pets can benefit physically, psychologically and socially. Pets are commonly used in what is referred to "pet therapy", a growing field that uses dogs or other animals to help people recover from or better cope with health problems such as heart disease, cancer and mental health disorders.1
Science tells us that just 15 minutes bonding with an animal sets off a chemical reaction in the brain, lowering levels of the stress hormone, cortisol, and increasing production of the feel-good hormone, serotonin. This in turn helps maintain mood balance and alleviate feelings of anxiety and depression.2
If you plan to stay at home long into your senior years, a pet will do wonders for your overall health and quality of life.
Insuring your pet
As life slows down and you find yourself at home more, the bond between yourself and your pet increasingly grows. You become reliant on your pet's social support, and turn to them in times of isolation or loneliness. Just as you rely on them, they also rely on you for walks, love, food and companionship, which can give you a great sense of worth once the kids have all moved on.
When there's so much value held in the bond of an animal and their owner, it can be devastating when something happens to interrupt it - particularly if your pet serves as your primary companion and contact.
When your pet gets sick or suffers an accident, you'll want to try everything you can to get your pet to hold on and stay with you. Already financially pinched, however, many pet owners find they simply don't have the money to pay for specialised pet care, vet bills and operations. As a result, they sadly must say goodbye to their pets, which can be extremely distressing, especially if having recently experienced the loss of a partner, friend or family member.
There are no government subsidies or payments to help pay for the treatment of pets. Vet bills can run into the thousands of dollars, and if you don't have the money to spare for treatment, euthanising could in some circumstances be your only choice.
In the 2013-14 financial year, RSPCA reported that 8,574 dogs and cats were euthanised on infectious and medical grounds.3
If money is the issue at hand, pet insurance gives you the option to fight for your furry friend. While you will still have to pay for your vet bills up front, you can rest assured in the knowledge that you will be reimbursed for a proportion of your bills.
No matter how careful you are with your pet, accidents can happen and illnesses can strike at any time. By purchasing pet insurance, you're buying peace of mind that you can do everything you can for your pet in times of trouble.
Individual schemes vary in the types of procedures covered, but as a general guide, most policies will cover up to 80% of your eligible vet bills following a specified accidental injury or illness.4
The cost of pet insurance varies, depending on the type of cover you choose, and some breeds might attract higher premiums due to their known predisposition to inherited and other problems.
The key benefits of Seniors Pet Insurance include:
10% seniors discount for over 50s
Reimbursement for up to 80% of your eligible vet bills4
Flexible payment options at no extra cost
Insuring while they're young
Pet insurance is something you might want to consider while your pet is young. As your pet gets older, they may develop more conditions. Conditions that existed or occurred before you take out insurance or during the applicable waiting periods, may be considered a 'pre-existing condition' and excluded from cover. Whether a condition is excluded depends on whether they are chronic conditions or temporary conditions for your pet. You can review the relevant Policy Booklet for more information.
It's easy to think that young, healthy animals come with very little risk, but the reality is that while pets are extremely lovable, they're also unpredictable. As any Labrador owner will agree, there's nothing stopping your animal from eating something off the ground that could cause a stomach upset, and a boisterous pup could break from your grasp and run out onto the road.
There are things as a pet owner you can prevent, but there are others that you can't predict.
Comparing quotes
When comparing pet insurance quotes, it's crucial you examine each policy carefully. Things to look at include:
What does the policy cover?
What exclusions are there?
What percentage of eligible vet bills does the policy pay?
What is the excess on claims?
How quickly will I have my claim paid into my account?
Are there any breed exclusions or higher fees for certain breeds?
Does my pet have what is considered a "pre-existing" medical condition?
Does the policy offer a discount for multiple pets?
If I am hospitalised, does the policy cover my pet's boarding costs?
31 Mar 2016