Assistance dogs can provide support for a range of conditions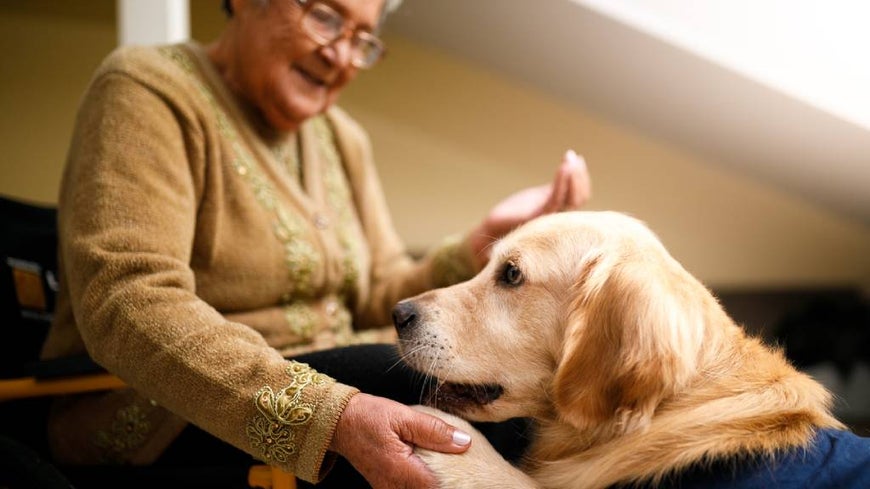 Written by Beverley Hadgraft for Australian Seniors.
Trained Labradors can help their owners overcome trauma, retrieve their medications, and even unpack their washing machines. These are some of the other ways our best friends help those in need. Here are some things that assistance dogs might be able to do.
Blindness
Dogs are matched with their owner depending on lifestyle and fitness plus social, family, and travel needs. Dogs will help safely navigate common routes, cross roads, avoid obstacles, prepare for stairs, and help handlers board and travel on public transport.
Disability
People in wheelchairs use dogs to help in the home and community. Specific needs training may include bracing to support their handler if they become unstable in their chair, barking for help in case of emergencies, picking up and retrieving items such as mobile phones or keys, emptying front loader washing machines, and even assisting in making beds.
Epilepsy
Although research is ongoing, dogs can be trained to lie next to someone having a seizure to prevent injury or provide support and comfort. They can also retrieve medication, and activate a device to alert a designated person a seizure is occurring. Some dogs can predict oncoming seizures and alert handlers or carers to take precautions.
Autism
Research confirms children with autism show improvements in social, verbal, and cognitive skills when provided with an assistance dog. Dogs can also help reduce anxiety and improve confidence and self-esteem.
Deafness
A hearing dog is trained to alert handlers to common household sounds such as alarms, doorbells, telephones, or a child's cries. It then nudges the handler to the source of that sound. If a handler is non-verbal, dogs may be taught to respond to sign language.
Diabetes
Trained to assist those who have insulin-dependent type 1 diabetes, these dogs can smell the chemical body changes that occur when insulin levels drop. They are usually given to children and will alert a parent or guardian to take appropriate action.
Pets as therapy
These dogs play an important role in a variety of situations whether calming people in stressful situations or helping children learn to read.
At Australian Seniors, we're committed to rewarding good pet owners. That is why we provide pet insurance for over 50s, helping you keep up with the mischief your pet gets into without worrying about expensive vet bills for an accident or illness.
22 Jul 2021