Do I renovate or move into a retirement estate?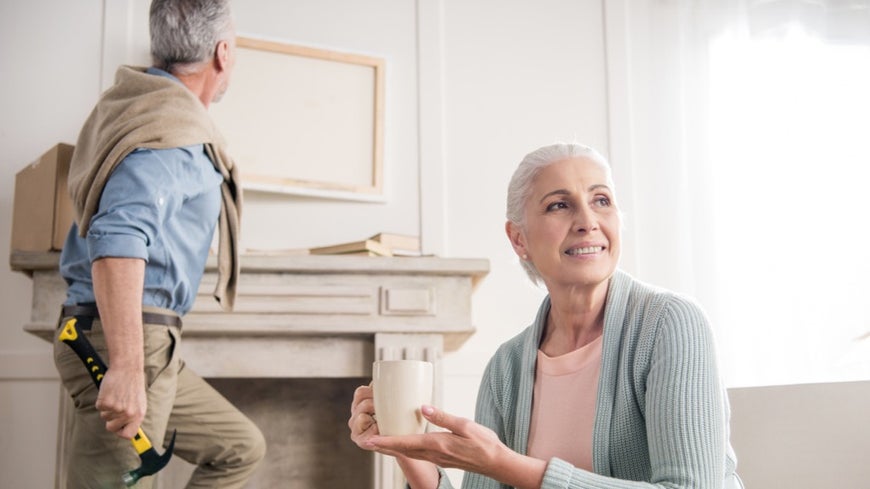 Your lifestyle needs are changing, and you're faced with a tough choice: renovate your home or move into an over 50s estate.
Not sure what's right for your circumstances? Take our quiz to help you decide which is the better fit. Or, download the free Australian Seniors planner 12 considerations before you renovate.
How independent are you?
I live alone (or with my partner) and am quite independent.
I am as independent as I can be. My partner/family occasionally help with anything I can no longer do myself.
I do what I can for myself but I need more help than I once did.
How big is your home?
I have extra space now the children are gone, but it suits me for the time being.
I downsized a few years ago and it's the perfect size.
It's too big for me and the upkeep is a little challenging.
How much work is needed to adapt your home to your changing needs?
Not much – only a few small modifications and it will be perfect.
Undertaking some straightforward renovations would allow me to live in my home comfortably for the long term.
I'd need to renovate most of my home in order to stay here independently.
How's your social life?
I'm very socially active. I go out and regularly entertain at home.
I occasionally attend social gatherings, and sometimes I make use of community spaces and events.
I'm not overly social because I find it hard to travel. I wish I had easier access to social activities.
What's the most financially viable option for your long-term health needs?
Downsizing into a home where I can live independently.
Renovating to enable me to stay in my home as I age.
Moving into a retirement community where I can remain independent but have health services, social outlets and lifestyle facilities nearby.
What does 'home' mean to you?
A space that's rich in memories and close to the people and things I love.
My haven. A familiar, happy place where I live on my own terms.
My own place within a safe, connected community that allows me to live a full life.


That's it! Now the big question: should you renovate or move into an over 50s estate?
Tally your responses. The letter you chose most indicates whether you are more inclined to renovate or move into an over 50s estate.
Mostly 1s
While you are still very independent, it's likely you have started thinking about how your lifestyle needs are changing and considering what your options may be in the future. Whether it's making some small modifications to your home or downsizing in coming years, you are in the early planning stages of renovations.
Mostly 2s
It's likely you are considering renovations as part of your mid- to long-term plan to stay in your home. You may have recently downsized or are actively thinking about adapting your home for long-term independent living. Next steps for you may involve exploring, in detail, what renovations and modifications will make your home safer and functional and allow you to stay at home longer.
Mostly 3s
It's likely you're considering moving into an over 50s estate in the short to mid-term. Whether it's due to reduced mobility, a health-related issue, the need to downsize or to be part of a retirement community, there are many reasons why you may be ready to move. The ability to live in your own space but have social activities, lifestyle facilities, health professionals and support services nearby is a big part of the appeal.
Whether you decide to renovate or move into an over 50s estate, learn more about home and contents insurance or get a quick quote now.
10 Jul 2019