How to keep in touch with family far away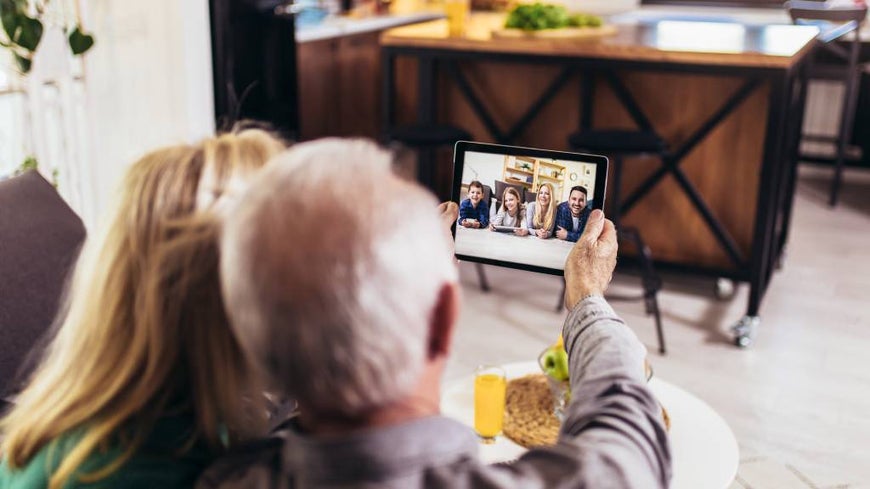 Living far away from much-loved family members can be tough – especially in times of illness, crisis, or financial worries. Studies show that staying connected can leave you happier, help you manage mental health issues and stress, and may even have a positive impact on physical health issues, such as cardiovascular disease.
So, if you're stuck at home for a while, here are some fantastic ideas to stay close with distant family when you can't be face to face.
Have a virtual meal together
If your family are a long plane-ride away, you'll know that it's the little things you miss – like sharing a 'cuppa' or a meal face to face. So why not set up a multi-way video call on your laptop and eat together? Sure, one of you might be eating dinner while the other tucks into a bowl of breakfast oats (depending on where you both live) but it's the next best thing to sitting at the same table.
It's easy to set up a video chat on platforms such as Whatsapp, Facebook or Skype, though there are many options out there to consider.
Create a photo repository
Some families just use Instagram to keep daily tabs on what's going on in the lives of relatives who may live on the other side of the world. And being able to comment on milestone posts such as a child's graduation or special accomplishment is a great way to stay connected.
However, if you have any privacy concerns you can always use an app like Cluster.co or create a private WordPress site just for family members. The benefits of having a website you control is that you can upload photos, videos and posts about family news or events – and it's completely private.
Watch TV or movies together
Got a family member who lives far away but loves the same TV shows or movies as you do? The next best thing is a Netflix Party – where you literally host a long-distance TV marathon or movie night.
It's a free service – you need to install the Chrome browser extension, then you go to Netflix, choose your show and start playing it. You can then click 'start party' and share the party URL to invite your family members. A chat screen next to whatever you're watching enables you to talk while you watch.
Work on an online project together.
You could learn to make sourdough bread with a distant family member by both watching a YouTube video together. Or, work together to record your family history one story at a time, later combining all your stories in a book to share with others.
There are lots of fun online projects to undertake together, making the distance feel not quite so great.
Write letters or send gifts
In the age of email, few would argue that it's a really special treat getting a letter in the mail – especially if you can get the whole family to contribute (including pictures you can fold up and tuck in from the kids!). It'll bring a little joy to whoever opens it at the other end. And you may get one back!
Sending thoughtful gifts to remind your distant family of you and make them feel included in your life will always be well-received – like a digital frame, populated by photos you upload to an app. Or, send a care package with items you know your loved one will enjoy – it'll be a great surprise.
While it's easy to let communication slide when you live far away from family members, making it a habit to connect over technology or via other means can have lots of positive benefits for your mental and physical health.
And as you can see, there are lots of easy and fun ways to get together – albeit virtually!
15 May 2020