CWA's Muriel Halsted and her recipe for the perfect scone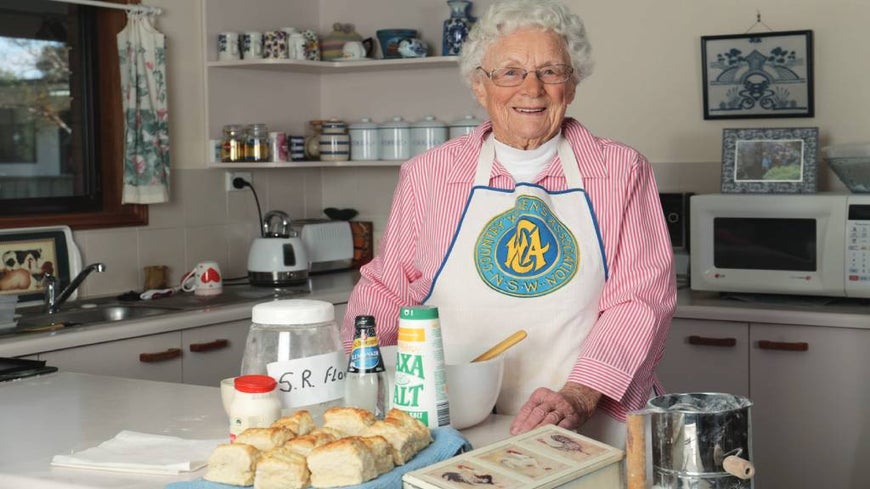 Muriel Halsted is exclusively interviewed by Paul Merrill for Australian Seniors.
Country Women's Association (CWA) stalwart Muriel became an internet sensation in 2020 when a video of her making three-ingredient scones went viral and was watched by nearly 10 million people worldwide. The inspirational mother of seven, who was raised in outback NSW, had been filmed for an ABC baking show in her own kitchen, proudly wearing a CWA apron.
Her newfound fame took her by surprise, and she continues to be an active CWA member. "CWA has brought to my life many long and dear friendships," the 94-year-old tells us. "The baby health clinic was a godsend to me rearing my seven children out west. I have always enjoyed, and still do, my contribution to the community. Through my 70 years of membership, I have encouraged many women to join." Unsurprisingly, she's an advocate for home cooking. "It is important to learn how to cook a few things from scratch as it is healthy with no additives. Home cooking tastes better because it is fresher and has more flavour, the food is not cooked in bulk quantities and is a whole lot cheaper."
And her top tip for the perfect scone? "Don't ever stir them with a spoon and don't over-handle the mixture."
Muriel's scone recipe 1. Preheat oven to 220˚C.
2. Sift 5 cups of self-raising flour and a pinch of salt three times.
3. Fold in 300ml cold cream and 300ml lemonade.
4. Keep folding until all the flour is mixed in.
5. Place on a floured board. Cut into desired sizes and brush with milk.
6. Bake for 10 minutes or until golden brown, turning the tray once during cooking.
7. Serve with butter, cream and jam, and enjoy.
Scones began as a type of Scottish "quick bread". Scones were originally made using oats, shaped into a large round and scored into four or six wedges, and were baked on a griddle, while today's version is more often made with flour and baked in the oven. As for the origin of the word "Skone", some say it comes from the Dutch word 'schoonbrot', which means beautiful bread. Scones are thought to have originated in Scotland in the early 1500s and the first known print reference was made by a Scottish poet in 1513.
29 Apr 2022