Sage advice: Keeping your herbs alive 6 ways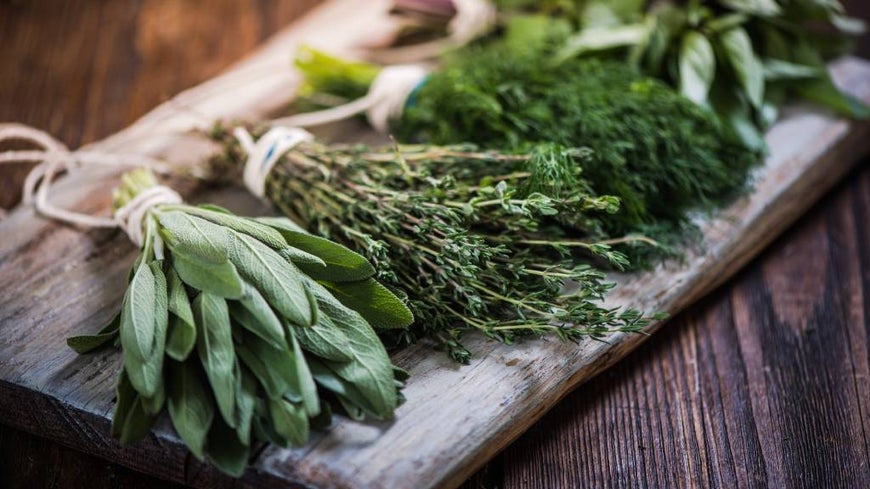 Written by Aimee Sics for Australian Seniors.
Herbs will wilt within days – but storing them correctly can give you up to three weeks of freshness. Food stylist and cookbook author Lucy Tweed shares her tips.
1. Wash and go
Place herbs into a colander and give them a good rinse to shake off any dirt. Make sure you wash your herbs thoroughly and then pat dry with a paper towel or clean tea towel.
2. That's a wrap
Use two sheets of paper towel to wrap the bunch, then pop into a resealable bag or container to keep moist and cool. Expect woody herbs (such as rosemary and thyme) to last two to three weeks, softer herbs (like parsley and mint) about seven days. Keeping your herbs alive longer can help you to save money and waste. Remember, it's now fashionable to be frugal!
3. Green shoots
Finely slice spring onions and chives and store in a jar (without water) in the fridge. They're now ready to go any day of the week. Add these to your favourite recipes and they should be just as good as if they were picked from the garden. 4. Ice magic
Fill a bowl with ice and water and plunge the herbs for 20 minutes, then drain before use to have them good as new. Find out why plant-based foods have become so popular.
5. Where there's a wilt
Plan meals around basil, as it fades fast. Coriander is also quick to go a bit limp, so after sprinkling the leaves on savoury dishes, keep the roots to use in a tasty homemade chutney.
6. Second life
Use up drooping leaves in a sauce, pesto or salsa verde; or blend them with olive oil and freeze into ice cube trays to use later in a stock and soup. Herbs such as thyme, oregano and rosemary are ideal to make a log of herb butter, which can be frozen and used later on steak or garlic breads.
25 Oct 2022