Grandparents' 10 top tips for childproofing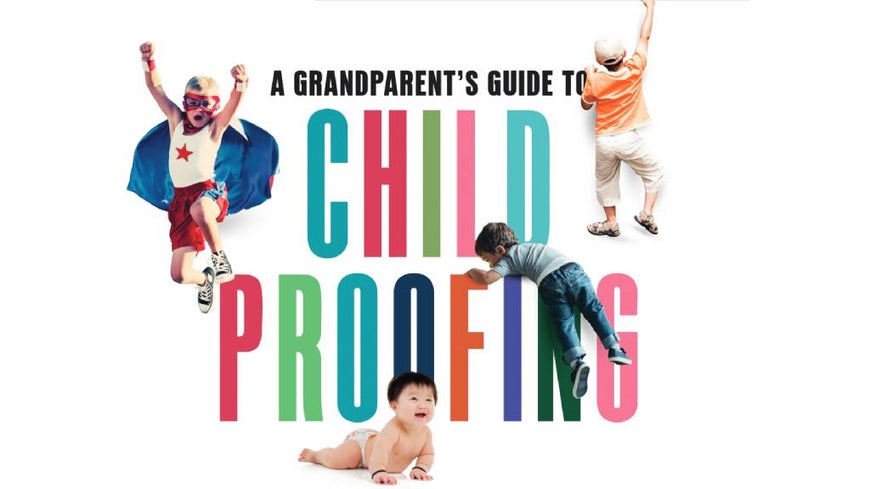 The arrival of grandkids can bring the memories of raising young children flooding back. The hours of teetering around and climbing, their sense of curiosity – grabbing anything within reach.
Since your children have grown, however, there is a new item that can be found in most homes that is tiny and is found everywhere. Button batteries run everything from medical devices to TV remote controls, musical birthday cards and bathroom scales – and they can kill.
They are enticingly shiny for little kids, easy to swallow and can get stuck, causing severe burning. According to Choice, 20 children are taken to emergency departments every week in Australia due to a suspected button battery ingestion or insertion. Two children have died to date.
The rapid rise of button batteries – 58 million are sold in Australia each year – has happened well ahead of adequate safety regulations requiring secured battery compartments. So the first tip to childproofing your home is to identify all items that use button batteries, and put them away.
There are other dangers too. According to the child accident prevention charity Kidsafe Australia, the home is the most common location for childhood injury. Hazards around the house can lead to falls, drownings, poisonings, electrocutions, burns and suffocations, resulting in 68,000 hospitalisations each year and over 168 deaths.
"While these figures are confronting, the good news is the rate has dropped significantly over the last 40 years and with simple precautionary measures many injuries can be prevented," says Christine Erskine, an executive officer of the charity.
Top 10 tips to keep your grandchildren safe at home
#1: Prevent injuries from falling furniture
Toppling furniture kills up to two children every year in Australia, so anchor it securely. Carolyn Ziegler, a director of child safety brand Dreambaby, recommends attaching all large pieces including bookcases, chests of drawers and display cabinets to the wall to prevent them tipping forward. Heavy-duty furniture wall straps are simple to install and it's a good idea to regularly check the anchor to ensure it stays tight.
#2: Secure all televisions
Unsecured televisions can fall and crush young children. "The solution is to use a TV tether, which can be attached to a TV cabinet or wall," says Annemarie Sansom, a director of childcare agency Night Nannies. "If you're handy it's easy to install or you can get a professional to do it. Another option is to have an electrician wall-mount your TV so it's out of reach and cord free."
#3: Restrict access to kitchens and stovetops
From electrical appliances, sharp implements and bins, to hot water, toxic cleaning products and the oven, the kitchen is filled with dangers. The simplest solution is often to restrict children's access with a baby gate, advises Annemarie. "If this isn't an option, look at safety caps for stove knobs, an oven lock or heat-proof screen across the oven door, as well as locks for reachable drawers and cupboards."
#4: Ensure cots are safe and suitable
For nap time, ensure the cot meets current safety standards. The distance between vertical bars must be at least 50mm but no more than 95mm, with no hazardous gaps that can trap a child's limb, neck or head. "The mattress must be the correct size for the cot, very snug fitting and one of the most important things is not to put anything else in the cot – no soft toys, bumpers or pillows," says Christine Erskine of Kidsafe. Red Nose Australia has the latest information on safe sleeping practices and gives advice on sudden infant death syndrome.
#5: Watch out for stairs, windows and doors
Small children can move across the room in a blink of an eye so be sure to secure exits. Auto-close security gates can block access to zones you don't want children venturing into, and are useful for stair tops and doorways. Carolyn recommends window restrictors, and window and door locks, which limit the maximum opening distance while still allowing fresh airflow.
#6: Store medicines out of reach
Carolyn suggests getting down low and crawling around. "You'll be amazed what you see from the different perspective. Often there's a tablet or two that has been dropped and fallen under the sofa. To a child this looks like a lolly." Also be aware of where medicine is kept – in a handbag, bathroom drawers and bedside tables. Store it out of children's reach.
#7: Make the bathroom child-friendly
Use a non-slip mat for the bathtub, a spout cover and a thermometer to check the water. Ensure all chemicals, perfumes and soaps are stored out of reach and secure cupboards and drawers with locks. "You might want to purchase a toilet seat lock as well so little fingers cannot lift the lid," says Annemarie.
#8: Store cords and electrics
There are a lot of inexpensive devices that can help sort out your electrics. Annemarie says browse the child safety aisle at your local hardware store and pick up safety plugs for electrical sockets and cord organisers. "Another tip is to unplug mobile phone cables when not in use," she says.
#9: Keep an eye on your pool
The main problem with pools is the gate being left propped open says Christine, so ensure it is self-closing and remains shut. Remove any outdoor furniture that kids can climb up to get into the pool area, like pot plants, chairs or a barbecue. Active supervision is key, so get in the water with them, and learn CPR just in case.
#10: Lock away chemicals and poisons
Take stock of where chemicals are kept – the laundry, garden shed, garage, under the sink – and find alternate storage. "Poisons shouldn't be left in low areas as there's always the chance you could forget to lock a cupboard," says Annemarie. "The safer solution is up high out of children's reach and locked. It might seem like an inconvenience to change your home but, once you've taken precautions, you can feel confident your little visitors are safe."
1 Jul 2020