Australian seniors are volunteering to deliver hunger relief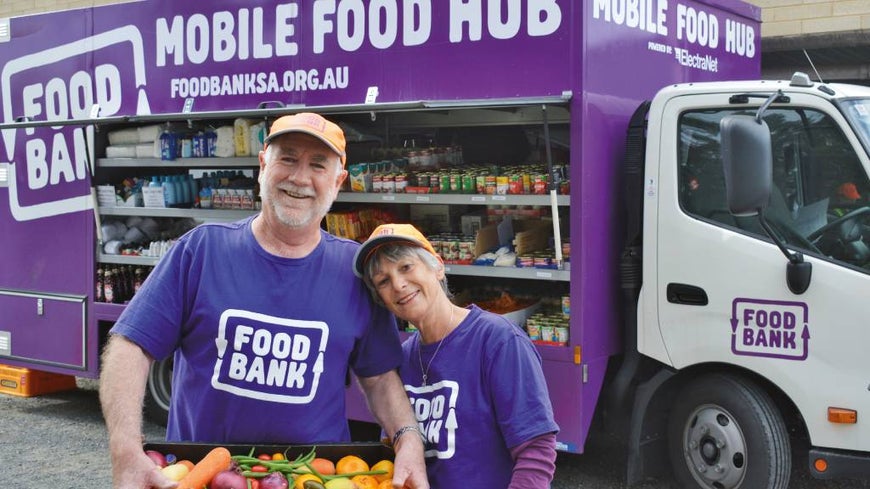 Written by Ellouise Bailey for Australian Seniors.
Ronni Kahn was the owner of a successful events company and throwing away masses of leftover food at the end of a function was common. She was so distressed by the waste, she began delivering untouched food to homeless shelters around Sydney and the food rescue organisation OzHarvest was born.
In the early days of the charity, she received a phone call saying, "We'd love to give you food, but we can't because we're not allowed to." The caller explained that from a legal perspective, they were liable for any food they gave the charity. If someone became ill after eating their food, they would be in trouble.
"I realised this law meant we wouldn't be able to tap into bigger sources of food in the future," Ronni writes in her book, A Repurposed Life (Murdoch Books). She recognised this was a barrier to food donations, so set up a meeting with lawyers who worked pro bono to challenge the laws. One year later, in 2005, the Civil Liability Act of New South Wales was amended, enabling donors to give their food away in good faith for a charitable purpose, without fear of liability, paving the way for other charities to rescue meals, too. Other states soon followed this precedent.
The journey of volunteering your time
Ronni is now 68, and OzHarvest is her proudest achievement. "This journey that began in middle age has shown me that purpose is a way of living your life. Beautiful untouched food was going straight into the trash, and none of us had thought there was another alternative."
Today, the charity has hundreds of staff and thousands of volunteers, and saves many from hunger and malnutrition. But she is not alone – there are many others across Australia helping every day.
The joys of being part of a community
Some people start to slow down when they hit 60. But when Geoff Short, 66, and Kathryn Smith, 62, moved from Sydney to Adelaide in 2019 to embrace something new, they chose to devote more time to giving back to the community.
"We found ourselves shouting at the television about issues on the news and we decided that instead of just shouting, we would like to do something positive," Geoff says. They soon found themselves driving donated food to victims of the 2019 bushfires in the Adelaide Hills.
Geoff works part-time as an international trade consultant and Kathryn as an IT content writer, but they spend every Tuesday in the Mobile Food Hub van operated by the South Australia branch of hunger relief charity Foodbank. At the moment, the food largely goes out to farmers who lost so much in the fires. "There are still people living in sheds and in very temporary accommodation," says Kathryn.
Since the arrival of COVID-19, there are now even more people in Australia doing it tough. In fact, the skies were only just beginning to clear of bushfire smoke in early 2020 when the pandemic struck, and Australians started losing their jobs.
According to Foodbank, there has been a 47% increase in demand for food relief after the pandemic began – and the frequency of people needing help has risen too. In 2019, 15% of Australians experiencing food insecurity were seeking food relief at least once a week, but in 2020, this figure had more than doubled to 31%.
The charity sources 40 million kilograms of food donations a year from farmers, the food industry, wholesalers and retailers, and distributes it via charity partners and schools. Before the pandemic, the main recipients were low-income families, the unemployed, the homeless, and people living with mental illness. Joining them now are young Australians and international students who have lost casual jobs in the pandemic and haven't been eligible for government relief.
Seniors gain a lot from giving back
Coming to the rescue are inspirational community figures like Mark McDonnell, 58, a Brisbane-based nurse. Mark was drawn into the food relief cause a decade ago, when he was renting out cheap rooms to people experiencing homelessness. One man asked him for a lift to collect free food. "There was this rotten celery and I said, 'This is disgusting, I could do better than this!' Two weeks later one of the guys said to me, 'Well you said you could do better and so I've got 60 people ready for food'."
Mark started collecting excess food from local bakeries. Then a food processor that had an order fall through gave him $70,000 worth of pre-cooked meals. Now supermarkets, pie shops and grocers save food for him, and individuals give cash to his charity, Community Friends, which serves homeless and disadvantaged people.
"About 150 people line up each Wednesday, but now we're running out of food," Mark says. "We are getting a lot of students and Uber delivery guys, because they don't earn much. We drop off food at TAFE because they have 2,000 international students in need during COVID."
The charity also helps to alleviate loneliness. "People come here and feel like we are their friends, they look around and see there's others worse than them and that no-one is judging them."
To volunteer your time or donate money, go to ozharvest.org; foodbank.org.au; and communityfriends.org.au
You can read the Australian communities report with interesting facts about volunteering here in the Modern Communities report.
27 Sep 2021