How dopamine dressing can lift your mood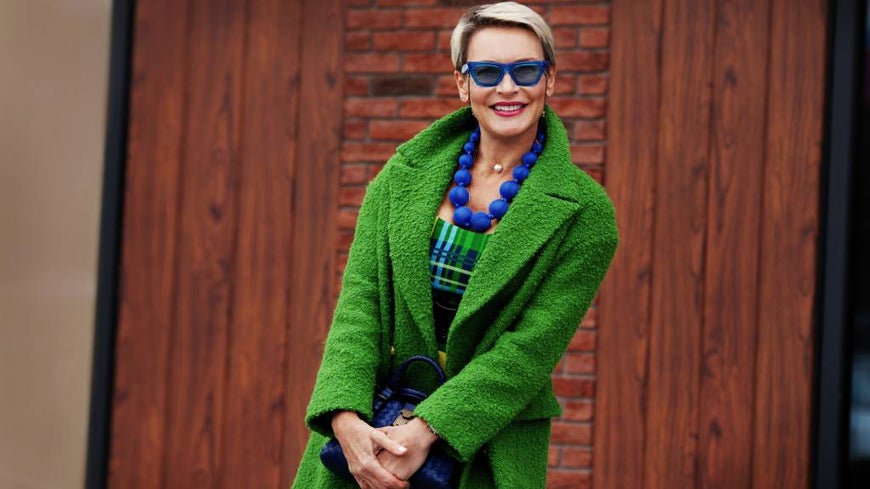 Written by Claire Isaac & Monique Butterworth for Australian Seniors.
While wild weather, climate fears and war in Europe has left us all feeling a little drab, there is at least one thing we can do to lift our mood – and it's as simple as getting dressed. Instead of reaching for a classic all-black ensemble, it seems that simply adding colour to our wardrobe can give us a bit of a boost.
Dopamine is a type of chemical that is released in the brain that is said to make humans feel good. Health Direct says that having the right amount of dopamine in your system, leads to benefits that can be experienced in both your body and your brain. Dopamine dressing is a concept that flows on from this, suggesting that wearing certain clothes or colours might release feel-good chemicals in your brain. The University of Melbourne has said that even though colours can't dictate your behaviour, they can in fact influence your decisions and affect your mood.
We're already embracing more colour – just look at the popularity of style icon Iris Apfel, who this year at the age of 100 launched an H&M collaboration. The bright and bold range sold out in minutes. And Iris is just one of many fashion figures who has long embraced the look.
"I love the dopamine trend and have been an early adopter because it yells optimism and that is what we all need right now," says Australian fashion industry leader Kellie Hush. "There absolutely is a psychological shift when you wear colour.
"At the opening show of the Melbourne Fashion Festival in March there was so much colour on the runway, and it truly injected joy into the room. And it wasn't just colourful pretty dresses. It's pop pink tailoring, butter yellow jackets, blue and green shirting and happy accessories. Even in menswear we're seeing an injection of colour."
While Kellie has long embraced the mood-lifting effect of colour, she's aware that for the majority, adding brights to a lifetime's collection of muted tones may seem terrifying. So how should we branch out past the stylish-but-safe?
"If colour is outside your sartorial comfort zone, you can start safely and wear it with your black and navy," she advises. "A beautiful blouse with a classic suit; a blazer in a soft blue with denim jeans. Or add a splash with a new shoulder bag in a pop of colour or a pink heel. I love a new season print also, which will look amazing underneath a classic trench or overcoat."
How to get it right with personal stylist and colour consultant, Ros Holden
Getting your 'colours done' was de rigueur in the 1980s and 1990s, after a series of American fashion designers and colour theorists launched an industry of personal colour consultants.
Colours were initially grouped into four seasons – summer (bright, warm colours), autumn (soft, warm colours), spring and winter (cooler, bluer colours) – but the four groups were soon expanded to better match more colours to complexions.
"Colour is 80% of the equation when it comes to looking good," says Ros. "I see many women over 50 wearing the wrong colours. By showing them their colours, it's like they've had a complete transformation – they look younger and well-groomed. Building your style is simple once you know your colours."
A consultation takes in a number of factors. "We look at the under-skin tone, eye and hair colour to determine your season by draping colours. There is an infinite number of colours to choose from once you understand where your colour sits," says Ros, who is a 'summer'.
"When you put a colour on someone, you can determine their under-skin tone. For example, you'll see the skin going red, or you'll see the skin going dull, or shadow coming to the skin. Their teeth won't be as white or their eyes won't be as bright. The hair won't be as shiny. Immediately when you put the colour against the skin, you see what it is doing to their face."
Once Ros determines a client's colours, styles, shapes and personality, she moves onto their make-up bag and hair colour.
"Wearing the wrong colour foundation can make you look five years older. Eight out of 10 women can do with a hair colour change too, to brighten them up," says Ros. "Once you know your colours, you know the tone of colours to use for every part of your make-up regime – eyeshadow, lipstick and blush."
A complete, but not necessarily expensive, wardrobe overhaul is next on the agenda. "When we put everything together with clothes, it's a very big change," says Ros. "Invariably clients will have a huge portion of their wardrobe that are the wrong colours. I show them how to build their wardrobe from scratch using their colour palette.
"You can start with five pieces. Because you can mix and match, you will be surprised by how many outfits you actually have. You just add one piece here and there. You don't have to spend a fortune to get going." Back in black
And forget everything you think you know about black, she adds. "I am very anti-black because it is just so dark and draining. If you put black near your face you will see lines and shadows. Black doesn't go with everything and it doesn't make you look slimmer – it actually absorbs all the light. I also don't like black because you can have 20 different black dresses and they all look the same!"
Ros believes once you get your colours right, everything else falls into place. "When you shop for colour, you have a clearer idea of the styles that will suit you. The rest is basic about your height, width, whether or not you have a waist, that sort of thing.
"If you're wearing all your colours from top to toe, it's going to create a more stylish look because nothing is clashing. The transformation can be incredibly profound."
Brighter times ahead
#1: Black is not for everyone
Unless you're a 'winter' – someone who can wear strong, cool colours – black is too strong. It casts shadow on the face, making wrinkles and lines look deeper. The older we get, the harder black is to wear.
#2: Go for a classic red
Not too warm or too cool, red works with all 'seasons' and skin tones – whether you have yellow, olive, pink or blue undertones in your skin.
#3: Gold or silver?
Cool skin tones suit silver, white gold and platinum, while warm skin tones suit yellow and rose gold, copper and brass jewellery. Neutral skin tones look good in both gold and silver.
#4: Top to bottom
While getting the colours closest to your face is most important – as they're up against your skin – don't ignore the bottom half. The most flattering outfits reflect your overall colour. Unrelated colours draw attention to themselves.
#5: Wrap it up
Once you've established your 'season', a good way to makeover your wardrobe without the expense of a complete do-over is accessories. Look for beautiful, flattering scarves to provide colour to your all-important chin line.
27 Nov 2022