Rise of the cashless society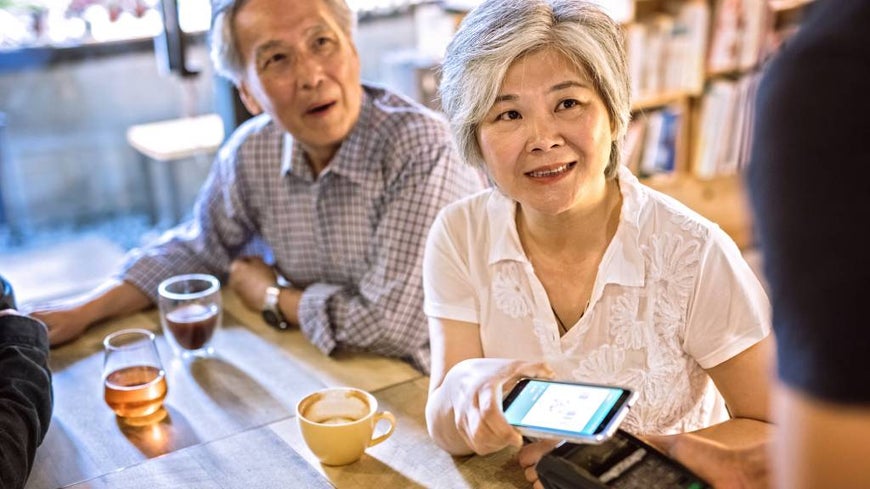 Written by Beverley Hadgraft for Australian Seniors.
After losing his wallet, Brett McArthur, 57, switched to Apple Pay, using his smartphone to make payments and identifying himself via his fingerprint. "It was all going well until one day I went to buy groceries," the Melbourne man explains.
"The bill was $110 but when I went to pay, it didn't matter what angle I pressed my finger on my phone, it wouldn't work. I had a queue behind me and was sweating bricks." Eventually, he stopped and examined his fingertip, which he discovered was completely bald. "I'd been sanding a bike down and had sanded my fingerprint away!"
Financial journalist Jason Bryce is amused by this story. He recently deleted Apple Pay on his phone – it was making it too difficult to track his spending. However, Brett's story is another that validates his belief that rumours of an impending cash-free society are "ridiculous".
Protecting the right to use cash
"Cash drives community," says Jason, who is campaign manager of Cash Welcome, a grassroots drive to protect the right to access and use cash. Fetes, garage sales, honesty boxes, charity buckets and the ability to give the grandkids $5 for an ice cream all rely on cash.
"There are many reasons to use cash – from buying a birthday present for a spouse without it appearing on a bank statement, to escaping a violent relationship," Jason adds. "Those who are mentally or physically impaired can cope well with current systems but if we go cash-free they'll struggle. Cash makes it easier to budget and it's essential in outages or emergencies such as bushfires."
Why cash is no longer king
Anders Sorman-Nilsson is a global futurist who advises some of the biggest brands in the world from Apple and Facebook to Mercedes and Macquarie Bank. He thinks it is unlikely we'll ever go completely cashless, but predicts cash will account for only 1-2% of transactions within the next 10 years – and we won't even need to carry wallets.
Instead, says Anders, we'll choose our goods or eat our dinner and walk out of a department store or restaurant with a scanner seamlessly recording what we've bought while interfacing with our wearable devices (whether a smart watch, spectacles or AirPods) and withdrawing payments from our bank accounts. No queues and no time-wasting.
"Cash is no longer king. In some ways it's just a vector for the virus," Anders says. "The pandemic has cemented digital behaviours. We're now used to having our bank branch on our phone in our back pocket and shopping online. Users have realised the merits in the model and become comfortable with the technology."
He points to the example of his technophobic mother who now loves making payments on her Apple Watch and the security of biometric face recognition. "She doesn't have to remember PINs or suffer 'PINflation' – which means the more times you use a password, the easier it is to hack."
And what about those in rural areas with poor phone or internet connection, or when outages occur? "People can put bills on an account or provide a PayPal or bank ID," he replies.
Implications of a cashless society on seniors
For some elderly people, the transition is not quite so simple – and that has a knock-on effect for those who care for them. According to the Reserve Bank of Australia (RBA) Consumer Payment Survey, it's estimated over 65s are five times more likely to use cash for an in-person transaction than under 30s, especially in regional areas. So how do seniors who aren't comfortable with debit cards or online banking manage?
John Farrell, 65, took over banking for his 97-year-old Sydney father, Derek, when online looked like the easiest option. "My dad was wedded to his passbook," he explains. "We'd been paying all his bills manually for him but it was taking up too much time so we said, 'You can keep your passbook, but we're going to set up this electronic account for automatically paying bills like Telstra, water and rates.'
"He wasn't happy at first, but we still got paper bills sent to him as a compromise, and once he realised how easy it was and how it meant he had nothing to worry about, he was fine.
"Things like his dividends and pension we got paid directly into his nominated bank account because, before, he was getting a cheque and had to pay it in. We were always worried he'd lose it.
"Dad remained a cash person when he went to pay for anything. He rarely used a debit card to pay for anything because he didn't think they were secure and always wanted to be taken to the bank to take out a few thousand dollars.
"For his generation, cash was a security blanket. He was raised in the Depression when cash was king so it was important for him to still feel he was in control."
Pros and cons of going cashless
Economist Professor Pasquale Sgro, from Deakin University, points out that going cashless lowers crime rates and reduces money laundering and tax evasion. People are now, thankfully, rarely mugged for their wallets and cash register hold-ups are increasingly rare.
However, he worries about budgeting difficulties, lack of inclusion for those from lower economic demographics, system vulnerabilities and security and privacy concerns. "A risk of hacking could drain savings within minutes."
He's clearly not alone. It appears many do still want to hang on to cash. Despite minimal promotion, Jason's Cash Welcome campaign has thousands of subscribers and he has more than 80,000 signatures on his change.org petition to protect the right to use cash (merchants can legally refuse to take it).
Small businesses are among his supporters as, for digital payments, merchants typically hire a terminal and pay a monthly fee, plus a fee per transaction. The lower their turnover, the higher their fees. "Recently, a coffee shop told me their costs through a big bank are equal to the costs of hiring one staff member," says Jason. If you wonder why you pay an extra 50c if you tap and go when buying a takeaway latte, there's your answer.
Curiously, while COVID-19 has seen an increase in digital transactions, it's simultaneously seen an increased demand for cash. According to the RBA, before the pandemic, there were about $80 billion in notes circulating in Australia. Within a year, that figure increased to $100 billion – a dramatic 25% rise in cash that is not being spent. Even more mystifying, younger people are more likely to be hoarding it than over 55s.
The RBA says such behaviour is common during times of economic uncertainty and stress, with younger people, who are more likely to lose work in the pandemic, perhaps prompting a change in the way they store and use cash. It will be interesting to see what is done with all that money when the pandemic ends.
Either way, it's no wonder that while the RBA is enthusiastic about innovations like the New Payments Platform – which allows payments to move between financial institutions in 'real time' – and is investigating its own cryptocurrencies, the bank's governor, Philip Lowe, doesn't yet envisage a world without cash. "We need to ensure banknotes remain widely available for those who want to use them," he says.
Upskill digitally
The Australian government initiative, eSafety, reports that 75% of older Australians are concerned about the security and safety of online banking, and has designed a course to build confidence in this area. It teaches older Australians how to transfer funds, check balances, download statements, avoid scams and use safe ways to communicate with their bank. A simulated online bank helps practise skills and increase confidence. For details, go to beconnected.esafety.gov.au
Other places impacted by going cashless
Charity buckets
Charities such as Surf Life Saving Queensland and the Salvation Army already have tap-and-go options as well as traditional fundraising tins. Often, a small set amount such as $2 is offered, and donors can choose to tap multiple times. Most big charities now receive the majority of donations online, but are concerned interest is more difficult to maintain without face-to-face connections.
Buskers
Some buskers have their own QR code, which takes donors to a profile on Busk – a website designed to facilitate electronic payments to buskers worldwide.
Church collections
Tap-and-go collection plates allow for parishioners to either give cash or make electronic donations. Others provide cards for worshippers to fill in their credit card details and the amounts.
Cash and grandkids
An integration between an app and a piggy bank is on its way, says futurist Anders. Adults point their phone at the piggy bank, which makes a clinking coin noise as cash is deposited to the child's account. Banks are keen to open up accounts for young customers, but Anders believes tangible objects children can touch are so essential to learning, cash could hang around just to facilitate financial education. Either way, the Tooth Fairy isn't going digital any time soon.
Cashless ways to pay
Apple Pay
A mobile payment service that lets users with an iPhone or Apple Watch make payments with their device. Fingerprint or face ID is used to authenticate payments. Google and Samsung also offer this service.
Biometric payments
These currently use face or fingerprints as ID, but in future, behavioural biometrics that can track walking styles, typing speeds and even the user's heart rate will further improve protection against frauds and scams.
Afterpay
One of many Buy Now Pay Later (BNPL) schemes, payments are divided into small chunks like layby, except shoppers can take the goods immediately. There are more than six million active BNPL accounts in Australia and transactions have tripled in the past two years, but 21% of users rack up late fees, according to ASIC.
Digital card
This is just like a physical plastic card, except it is available in a bank app. It can be added to a smartphone or online wallet.
Cryptocurrencies
Making purchases with cryptocurrencies like Bitcoin is niche now, as there are issues with security and volatility. However, the RBA is exploring the production of a central bank digital currency (CBDC). This would most likely benefit overseas trade deals.
Wearables
Smart watches are currently the main wearable used to make payments, but it's predicted spectacles, AirPods and jewellery could be used in future. In Sweden, the poster child for cashless communities, some have implanted microchips into their hands to pay for goods.
Pay ID or new payments platforms
Users link an email address, mobile number or ABN to a transaction account and provide that instead of a BSB and account number for ease of use and real-time payments.
23 Jun 2022