A 10-step guide to being an amazing grandparent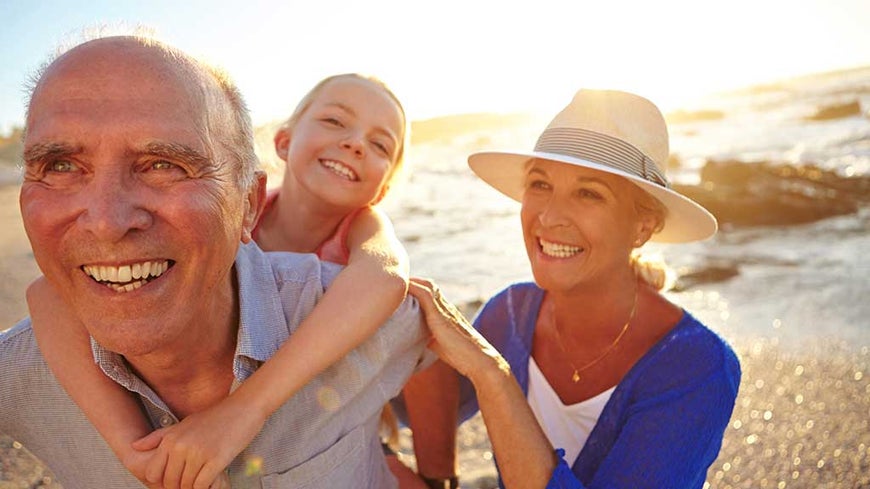 When you find out you're going to be a grandparent, all those scary moments you endured as a parent come flooding back. The first fall, the first fever, the first time they run off on you in the shopping centre and one minute feels like a lifetime, the first call from a teacher to say your child isn't where they are supposed to be, and the first teenage tantrum. They're all moments that you wouldn't want to repeat, but the good news is, you don't have to do it all again.
You see, being a grandparent is entirely different to being a parent. Your role as grandparent is to assist your children in their quest to parenting, not to take control. It's your job to help raise great children who will grow into well-rounded adults, by offering support and respect to your children and their parenting techniques, while understanding the strong need grandchildren have to absorb their grandparent's essence and legacy.
Understanding the difference will be a key in the success of your grandparenting.
Some grandparenting requires a full-time commitment. For others, grandparenting is a weekend together, an afternoon playdate, a summer holiday, or a simple chat on the phone. No matter how long and how often you look after your grandchildren, it's essential you take steps to securing a safe and loving relationship your grandchildren can rely on.
Step 1: Determine your role
The first step to grandparenting is to talk to your children. Learn what they expect from you, and talk to them about your own expectations. Be clear about the role you'd like to have in your grandchild's life, and discuss matters such as how often you're willing to babysit and whether you want to be included on special occasions and school functions.
Step 2: Secure your relationship with the parents
Parents are the linchpins of a grandparent's relationship with a grandchild, and when the relationship is flawed, it can be a difficult relationship to manage. Keep on good terms with your children (including in-laws), and respect their right to make their own decisions. Remember to understand the insecurities of new parents, and refrain from being bossy, controlling, critical or judgemental.
Step 3: Babyproof your home
It may be a number of years since you had a small child in your home and you might not realise your house has so many dangerous things. By babyproofing your home, you ensure the safety of infants and toddlers, while protecting your most loved possessions.
Step 4: Learn the rules
Consistency is important to children, so know the behaviours your grandchild has to follow at home. Maintain those rules when they are with you, even if you don't agree with the rule. When it comes to disciplining bad behaviour, enforce any agreed upon discipline.
Step 5: Slow down
The pressures of being a parent mean that you're often running around and jumping from task to task. The beauty of grandparenting is that you get to slow things down.
Slowing things down allows you to truly connect with your grandchildren and become really absorbed in an activity. Grandchildren will love the feeling of you being 'present' rather than 'active'. Think of it as "just being" with them.
Step 6: Be true to yourself
You don't have to be "cool" to be a good grandparent, so stop worrying about what your grandchild might think of you and start sharing your favourite stories, hobbies and activities. Sometimes activities you might not think will be of interest, such as knitting or gardening, can actually provide an important point of connection for you.
Step 7: Show interest
Children want to feel that they are being heard, and even if you don't understand it, it's important to take interest in what interests them. If they love playing with a truck on the ground, get down and play with them. If they enjoy colouring in, take out some pencils and colour in your own picture. Sharing your grandchild's world by playing, visiting their school, or learning their new technology will only strengthen your relationship.
Step 8: Keep up-to-date
If you don't live nearby, or even if you do, it's hugely important that you stay up-to-date with the lives of your grandchildren. Kids change and grow every day, so whether it's by phone, email, photographs, Skype or one-on-one get togethers, make sure you know what's happening in their day-to-day lives.
Step 9: Explore the outdoors
Children love the outdoors, and trips to the park or beach are great for making lasting memories. Nature walks and hikes provide lots of interesting things to talk about, and water play is especially fun.
Step 10: Make one-on-one time
If you have multiple grandchildren, it's important to create moments of one-on-one time so you can get to know your grandchild as an individual. Take it in turns to bake a cake with them, play a board game or take them on a special outing that reflects their interest. If your granddaughter likes art, for example, consider taking her to an art exhibition. If your grandson is into dinosaurs, plan a trip to a museum. Creating these special moments will make your grandchildren feel that much more loved.
3 Mar 2016