4 tips for safe bushwalking in Australia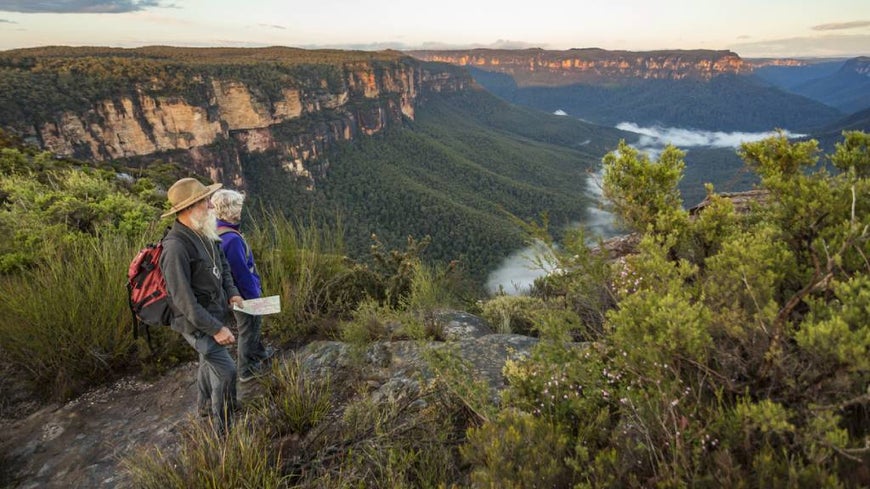 Written by Joanna Weber for Australian Seniors.
If you are wanting to improve your fitness and meet new people, bushwalking ticks all the boxes. David McFarlane, vice president of the Southern Highlands Bushwalkers club has been hooked on hiking for more than 20 years. Here are some of David's tips on how to stay safe in the bush and still have fun getting fit.
Tip #1: Join a walking club
"Walking in nature opens up a whole new world," he says. "You think you know a place, then you get to see it from a totally different perspective. It's even better when you can share that experience with others. There's a walking club to suit every age and fitness level. "We say do a trial walk before joining up," says David. "If you don't enjoy it, then maybe another group would suit you better. Every club is different."
David recommends starting on a beginner's gradient before taking on more challenging trails as you gain fitness and knowledge. Costs vary, but expect to pay between $15 to $130 annual membership, plus a small joining fee.
Tip #2: Safety matters
If you are going on a long walk, take matches, a torch, and your mobile phone with the Emergency Plus app downloaded, which can pinpoint your location if you need to call emergency services. "Walking with others is safer than being in the bush alone," says David, who also recommends checking the weather forecast.
Tip #3: Warm up
David recommends warming up with a few gentle stretches before setting off. Bushwalking provides moderate aerobic exercise, which improves cardiovascular health, muscle strength, bone health and weight maintenance (it burns 500 kilojoules every 20 minutes depending on the pace and how much you carry). Research shows it lowers the risk of heart disease and type 2 diabetes.
Tip #4: Amp it up a notch
Professor Carol Maher, deputy director of the Alliance for Research in Exercise, Nutrition and Activity at the University of South Australia, says that navigating unexpected obstacles like slippery dirt, waterways, and overhanging branches is not just good for our core muscles, it is good for our brains.
"The uneven surface of many trails is helpful for developing proprioception, or balance," she says. "Research shows that 'green exercise' significantly improves self-esteem and mood, and its benefits appear to be particularly potent for people with poor mental health."
To find a bushwalking club near you, go to walking.heartfoundation.org.au
22 Jul 2021