Navigating home support in aged care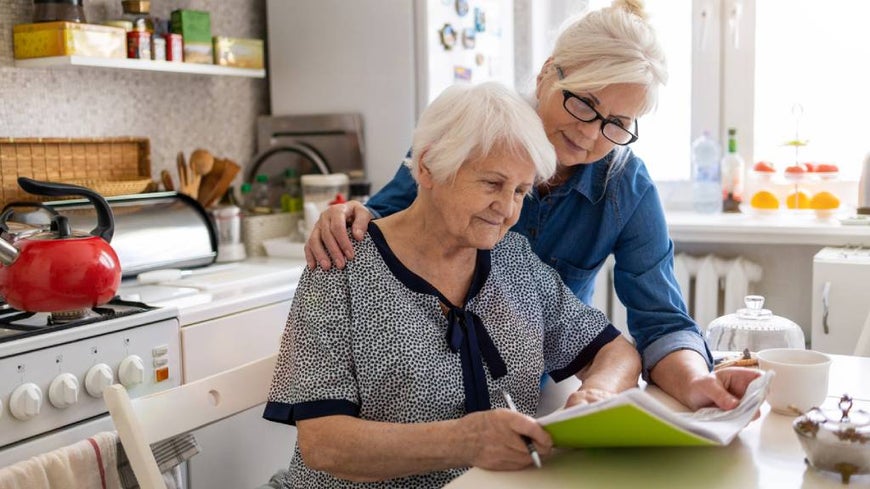 Written by Monique Butterworth for Australian Seniors.
We have all waited in line for something we want or need on the phone or in a shop. But this waiting list is heartbreaking – about 100,000 older Australians are currently in a very long line for approved federal government funds for services such as cleaning, transport and healthcare visits, to help them stay in their home as their health deteriorates.
Last year, a senate inquiry heard that in the three years to mid-2020, about 30,000 people died while waiting for these services to be approved.
Under the federal government aged care system, funding is capped, meaning the government supports a certain number of people in home care and residential care at one time. Home Care Packages are designed to support older Australians to stay in their homes for longer and to receive care there if they choose, rather than moving them into a residential aged care facility.
Packages can be approved at four levels, from basic to high level care. According to the Productivity Commission, more than 14,000 people who had been approved for the highest level of funding had an average wait of 28 months before they could access government support for tasks such as cleaning and showering. Sadly, many do not last until their number comes up.
An age-old problem
The move to improve home care is important for many seniors. What Australians Think of Ageing and Aged Care, a survey for the Royal Commission prepared by Roy Morgan, found that Australians aged 70 or older had a strong preference to stay in their own home should they ever have a need for support. Only 25% said they would prefer to live in residential aged care.
But these preferences are not currently reflected in aged care provision in Australia. Julie Ratcliffe is professor of health economics at Flinders University in Adelaide. According to her university's research, Australia has a high proportion of older people living in aged care homes, as opposed to receiving support in their own home. "Of Australians aged 65 and over who received long-term care, 52.5% were in a residential care facility, compared with 21.6% in Japan and 34.6% in the Netherlands," says Professor Ratcliffe.
"The waiting list for Home Care Packages is undoubtedly shifting Australians into residential care sooner. Comparable international data is hard to come by, but it is likely that we have one of the longest waiting lists among OECD countries for Home Care Packages."
So once someone finally gets a Home Care Package, what do they provide? They are designed to support older people with complex care needs to remain living independently in their own home. They include a mix of services that can include help with household tasks, minor home modifications, personal care, clinical care, and equipment such as walking frames.
Long waiting lists
But even once the long waiting list for home care is overcome, there are still many challenges. Professor Ratcliffe believes the quality of aged care will not improve unless significant changes are made to the aged care workforce, which at present is under-trained, underpaid, and over-stretched.
"Australia needs at least 70,000 more aged care workers," says Professor Ratcliffe, referring to both home care and residential care workers. "We need the right mix of personal care staff and clinically trained nursing staff. We also need to elevate the staff skills and training across the board, including in dementia and rights-based care. Better work conditions should help attract more people into carer roles," she says.
This year's federal budget addressed some of these issues, pledging a $17.7 billion package across five years for aged care, including $7.5 billion on home care. This will include 80,000 new Home Care Packages, which the government projects will clear the waiting list over the next two years, and $650 million to boost the aged care workforce.
Our fears about the future
An Australian Seniors Inheritance and Retirement survey of over 50s finds that 69% of seniors say they sometimes feel anxious about what retirement living will hold. Around 21% have downsized to a smaller property, mainly due to maintenance concerns while 60% do not want to move to a retirement village, but prefer to stay in their home for as long as possible.
30 Aug 2021