How to adapt your home for the over 50s lifestyle [Checklist]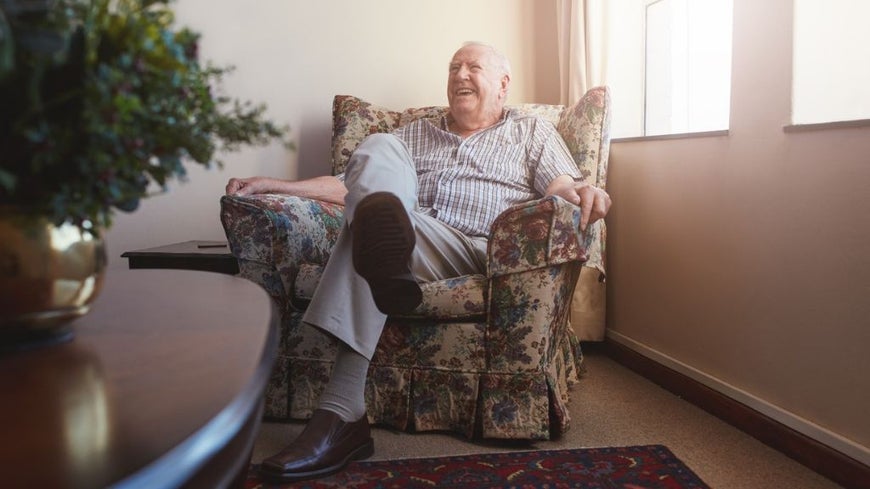 As we age, our needs change but the love we have for our living spaces stays the same. In fact, there are many benefits to getting older, as often we have more time to spend adapting and improving the place we live in.
In our 50s and beyond, we might have to adapt a few things around our home, both from an aesthetic and a practical standpoint. Indeed, the safety and security our home provides can be even more valued as we age. However, as we get older we may need to put a little extra effort into making sure our home remains safe and secure; it's just common sense, and can free up our valuable time to focus on better living.
It might never happen, of course, but unnecessary injuries can occur in poorly designed spaces. About 100,000 people aged 65 and older are hospitalised annually in Australia due to a fall, and injuries to the hip and thigh (24%) and head (24%) are the most common.1
Don't overlook the small things
Some everyday items and house features are potentially dangers – whatever age you are. However, in our 50s and beyond, the last thing you want is an unnecessary hazard in your very own home.
Floor surfaces are a good place to start looking for small things you can do to make your home a lot safer. Eliminate any trip hazards or abrupt elevations throughout the house. Make sure carpet is tacked down and adequately padded, and either remove rugs or securely attached them the floor. Hard surfaces should be slip-resistant, and be sure to clean up any spills as soon as they happen.
Lighting is also critical. Make sure the whole house is well lit. Remove any clutter, especially around stairs and hallways. Also consider installing abrasive strips on stairs.
Doorways can also be a hidden danger. Make sure sliding glass doors have a decal at eye level and use the handle to open doors rather than the glass panel. Also keep a safe area clear to place items down when opening doors.
You can boost your home's safety rating by:
Making sure your smoke detector is working.
Keeping a list of emergency phone numbers.
Keeping a torch next to your bed (to be used in the event of a blackout).
Having a fire extinguisher in the kitchen.
Adding a first aid kit to the cupboard.
House modifications can help Sometimes bigger or more permanent changes are required to adapt your home to changed circumstances. House modifications can involve altering structures, the layout, or fittings in your home.
Possible options to keep your house safe and secure include:
Hand rails: Grab rails around the shower, bath, toilet and stairs (that can support your weight) provide added stability and prevent falls.
Ramps: If you become unsteady on stairs or develop balance issues, installing ramps provides smooth transitions between surfaces and makes it easier to manoeuvre your way around the home and yard.
New flooring: If your flooring is old or there's a mix of surfaces in your home, they could cause you to trip over. Even-levelled and non-slip flooring can help avoid this.
Widened doorways: This modification may be necessary if you become reliant on a walking aid or wheelchair.
Kitchen modifications: Lower bench heights, more accessible locations for appliances and upside-down fridges can help older people when cooking and moving around the kitchen.
Bathroom modifications: Replacing a bathtub shower with a walk-in shower or installing a shower seat are common options for older people who want to stay in their homes.
Investigate any assistance or subsidies that may be available to make helpful modifications to your home. Check out the Australian Government's My Aged Care service. Alternatively, you can fund the modifications using the money from your annuities.
Staying secure
There are a range of ways to boost security in and around your home.
First, if you live alone don't make it public knowledge. Whatever your age, single dwelling households are known as a soft-touch for would be thieves.2 Be cautious when sharing any personal information online too – don't share your home address or phone number, for example, on social media platforms.
Make sure a telephone is always accessible, including at night. A mobile phone or cordless phone near your bed is a good idea. You could also install an alarm or monitoring system, or an emergency button that alerts family or authorities when pushed.
Other ideas to reduce security risks include:
Always lock doors and windows.
Don't place spare keys in obvious places like under the doormat.
Engrave any valuable items.
Keep cash and valuables out of sight.
​For most people, that old saying really rings true: home is where the heart is. By making the necessary changes to your house – whether small or big – you can continue to live the life and lifestyle you've always loved.
Protect your much-loved home with home and contents insurance from Australian Seniors. Request a quick quote today or download our free home planning checklist to help bring your living space ideas to life.
17 May 2019